Mt. Akagi, one of the most sacred mountains in the greater Tokyo area, is covered in wild azaleas that bloom in late spring through early summer. Local nature lovers flock to this dormant volcano every year to admire the bounty of blossoms. One of the best spots to see them is the Arayama-Nabewari area, part way up the mountain. This full-day, intermediate hiking trail takes you through the Arayama field of flowers, along a ridgeline with more pink blooms, and up to the crater lakes at the summit of Akagi. Along the way you'll see several varieties of azaleas and other blossoms, and pass through hours of forested trails amid the bright green new leaves of the season.
It's a 1-way hike with bus access at both ends. You'll have a chance to get ramen or curry for dinner at the restaurant at the summit.
Scroll down for practical details, or jump right to the trail report here.
Trail Overview
Moving time: 6 hrs 40 mins
Distance: 14 km (8.5 miles)
Elevation gain: 1,000 m (3,280 ft)
Level: Intermediate/advanced
Start point: Himeyuri Parking Lot/Minowa bus stop https://goo.gl/maps/mmqA6uWcp1sNgcs49
End point: Akagi Visitor Center https://goo.gl/maps/tc3T1x94kuNSnqCd9 
Access: Both start and end points are bus accessible. Parking is also available at both ends, but note that this hiking course is one way, so plan for return transportation.
Himeyuri Parking Lot (姫百合駐車場) → 40 mins → Arayama Kogen azalea field (荒山高原) → 40 mins → Nabewariyama Peak (鍋割山) → 50 mins → Tanaue Rest Hut (棚上十字路の小屋) → 70 mins → Arayama Peak (荒山) → 25 mins → upper refuge hut → 25 mins → Karuizawa Toge Ridge (軽井沢峠) (Arayama Trailhead → Kanto Fureai-no-michi entrance) → 50 mins → Lake Konuma entrance → Lake Konuma (小沼) (40 mins around) → Lake Konuma entrance → 25 mins → Torii Toge viewpoint and restaurant (鳥居峠) → 30 mins → Akagi Visitor Center bus stop (赤城山ビジターセンター)
Know Before You Go
Azalea Blooming Season
Arayama Kogen and Nabewariyama: Peak bloom in late May
Lake Konuma: Peak bloom in late may and early June
Pictures in this article are from May 30th (Arayama Kogen and Nabewariyama) and June 5th (Konuma and Kakumanbuchi) 2021, but keep in mind that it varies every year.
The azaleas along this hike are up between 1,000 - 1,500 meters of elevation, so they bloom later than those on the ground.
Getting There + Bus Schedules
From Tokyo: Take the shinkansen to Takasaki Station and then the local JR Ryomo Line to Maebashi Station (around 1 hour). Check Google maps or see here for details.
From Maebashi Station, take the Akagiyama Line bus from the station's north exit, bus stop #6. Ride to Minowa bus stop (around 50 mins).
The bus only runs a handful of times per day, so make sure to plan your hike accordingly. For the current schedule as of April 2021, the last bus down from the summit visitor center is at 5:17 pm. Don't miss it!
I'd recommend catching the following buses to allow plenty of time for the hike.
Bus there: 
Depart from Maebashi Station 7:32 am
Arrive at Minowa at 8:30 am
Bus back:
Depart from Visitors Center at 5:17 pm
Arrive at Maebashi Station 6:34 pm
Times current as of April 24th, 2021. Make sure to double check an up-to-date schedule before you go! Google Maps is updated frequently in Gunma. Alternatively, check out the weekend/holiday schedule on the bus company's website and scroll down to Timetable: https://kan-etsu.net/en/smarts/index/42/
Use the following stop numbers to check the schedule:
AG01 Maebashi Station (前橋駅)
AG47 Minowa (箕輪)
AG56 Akagi Visitor Center (赤城山ビジターセンター)
Summit Restaurant Hours (Suntory Beer Barbeque Hall)
The summit restaurant at the end of your hike is an excellent place to stop for an early dinner or some well-deserved ice cream. Note green season hours below, current as of June 2021.
Mon - Fri: 10:00 am - 4:30 pm (last order 4:00 pm)
Sat - Sun: 9:00 am - 5:00 pm (last order 4:30 pm)
Bathrooms
Public bathrooms are located at both the start and end of the hike, as well as Lake Konuma and Suntory Beer Barbeque Hall. Note there are no bathrooms during the long stretch (5 hours moving) from the start of the hike to Lake Konuma.
Shorter Hike Option
For anyone looking for a shorter hike, you can always double back to Himeyuri Parking lot from Nabewariyama or Arayama Peak. Most of the pink azaleas are along this first part of the hike.
What to Wear/Bring
・Hiking boots (the trail gets steep and rocky at times, although it is mostly well maintained)
・1 - 2 liters of water (nowhere to refill until the summit restaurant)
・A map (this course is just one of many in a network of trails across the mountain, and there are many branches off with signs only in Japanese, so it's best to bring your own reference. Paper or digital should be fine, but note there is no service on some parts of the trail)
・Warm layers (the trail is at high elevation and temperature is generally 10°C (20°F) cooler than at ground level. Plus, the temperature tends to drop sharply if it gets cloudy or rainy)
・Lunch and snacks
・Cash for the the bus and restaurant (no IC cards or credit cards)
・Anything else you'd usually need!
Full Trail Report
Some colleagues and I tackled this trail on a beautiful sunny day in May 2021. After getting off the bus at Minowa, walk up the road for a few minutes to Himeyuri Parking Lot. There are bathrooms and vending machines here. During azalea season the lot is usually packed, so for those coming by car, you can try the other lots down the side road that continues out of the far side of the parking lot.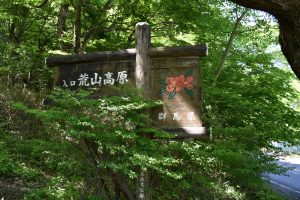 The trailhead was at the far end of the parking lot. The sign for it had an azalea painted on it, so we knew we were headed in the right direction. The first part of the trail was easy going through the forest, well-maintained dirt path and log steps.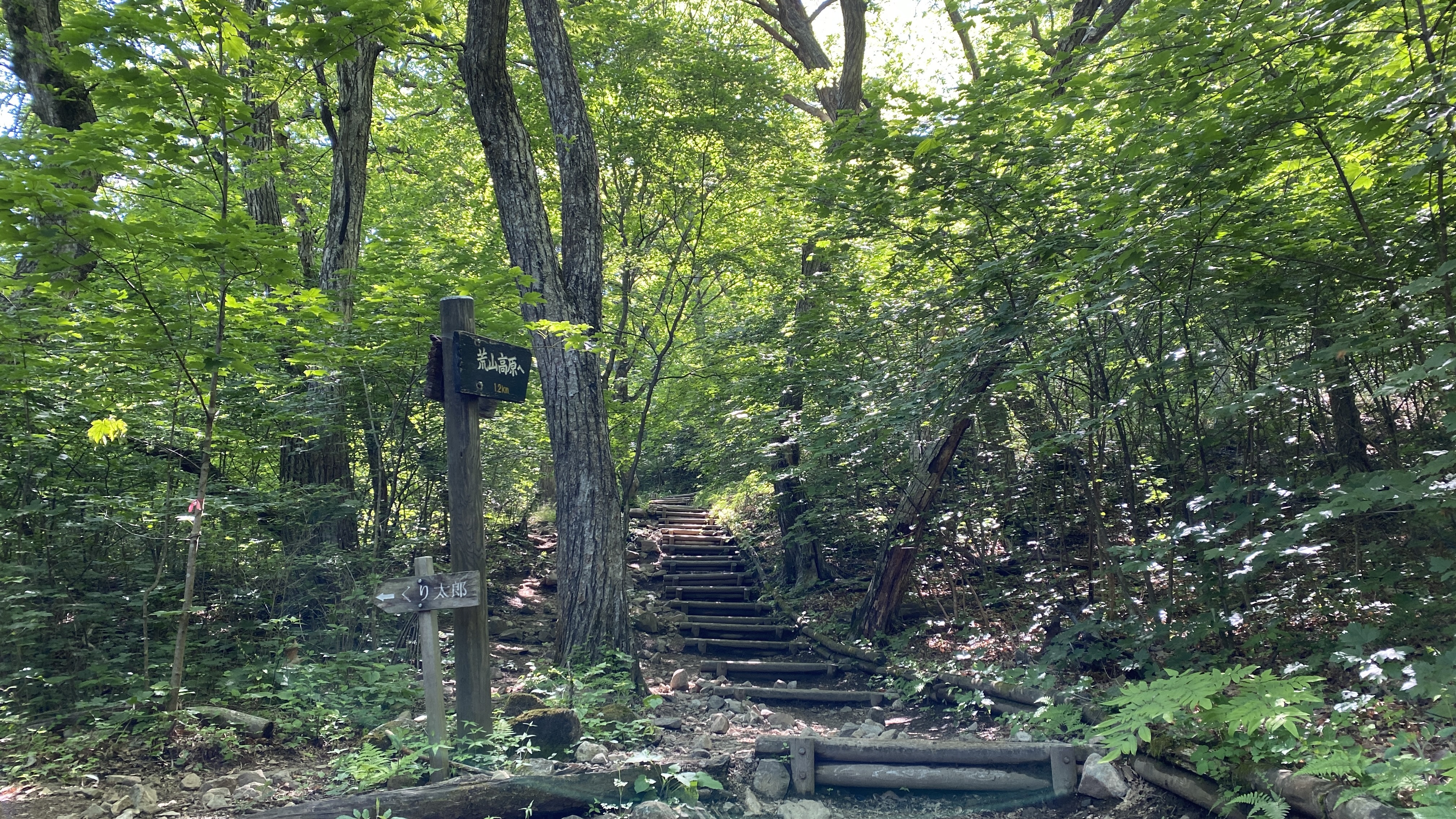 The trail branched off several times. Follow signs for Arayama Highland (荒山高原), mostly straight but there was one fork (turn left). It's good to keep your map handy for this part. We had a paper map from one of the Akagi information centers from a previous trip, but of course a map on your phone will work just as well.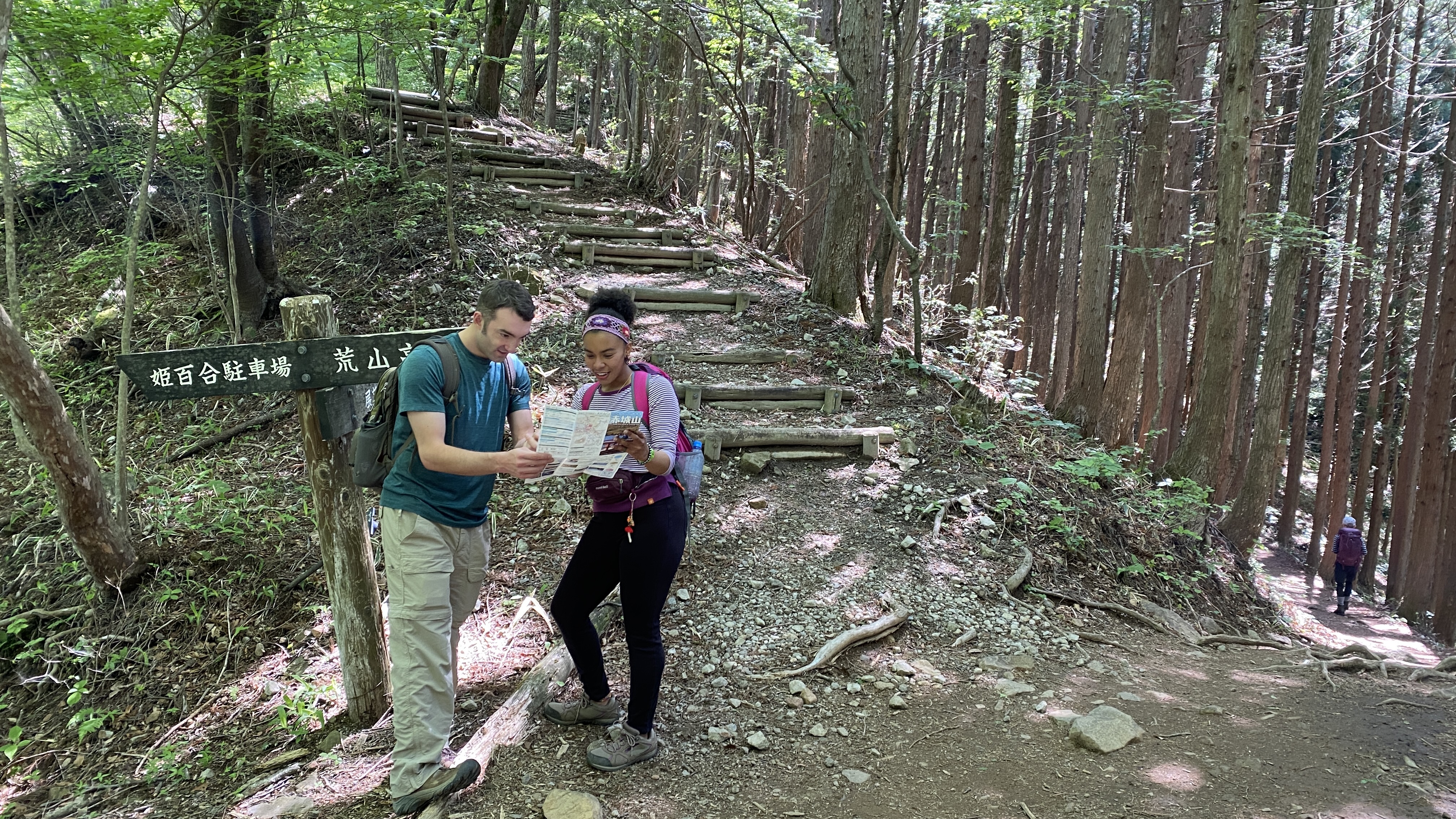 The trail continued gradually up, turned rocky at some point, and eventually led out into a wide grassy field covered in bushes of flowers. This was Arayama Kogen, and visitors flock here every year to see the vivid pink kaempferi azaleas, or yama tsutsuji.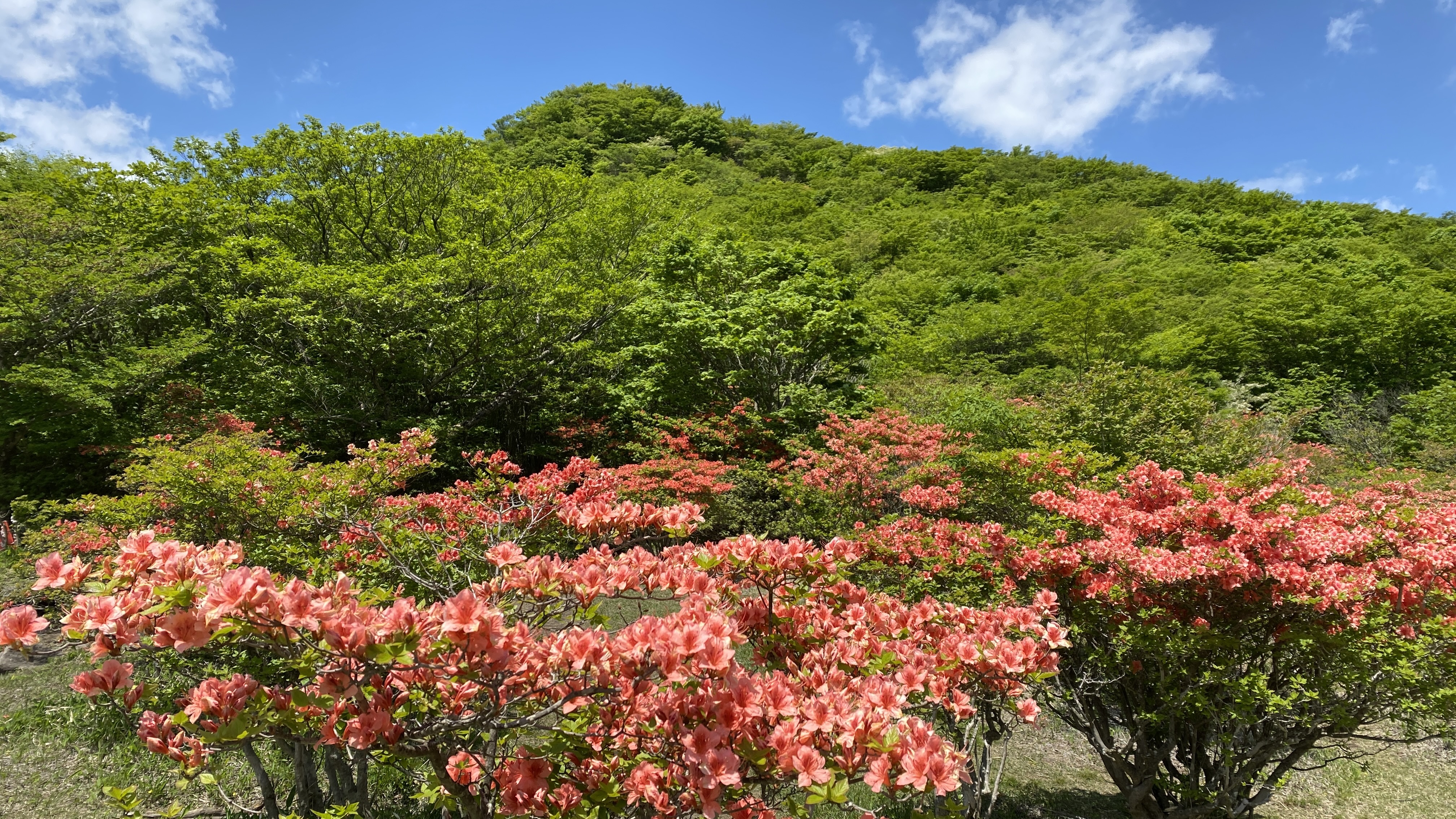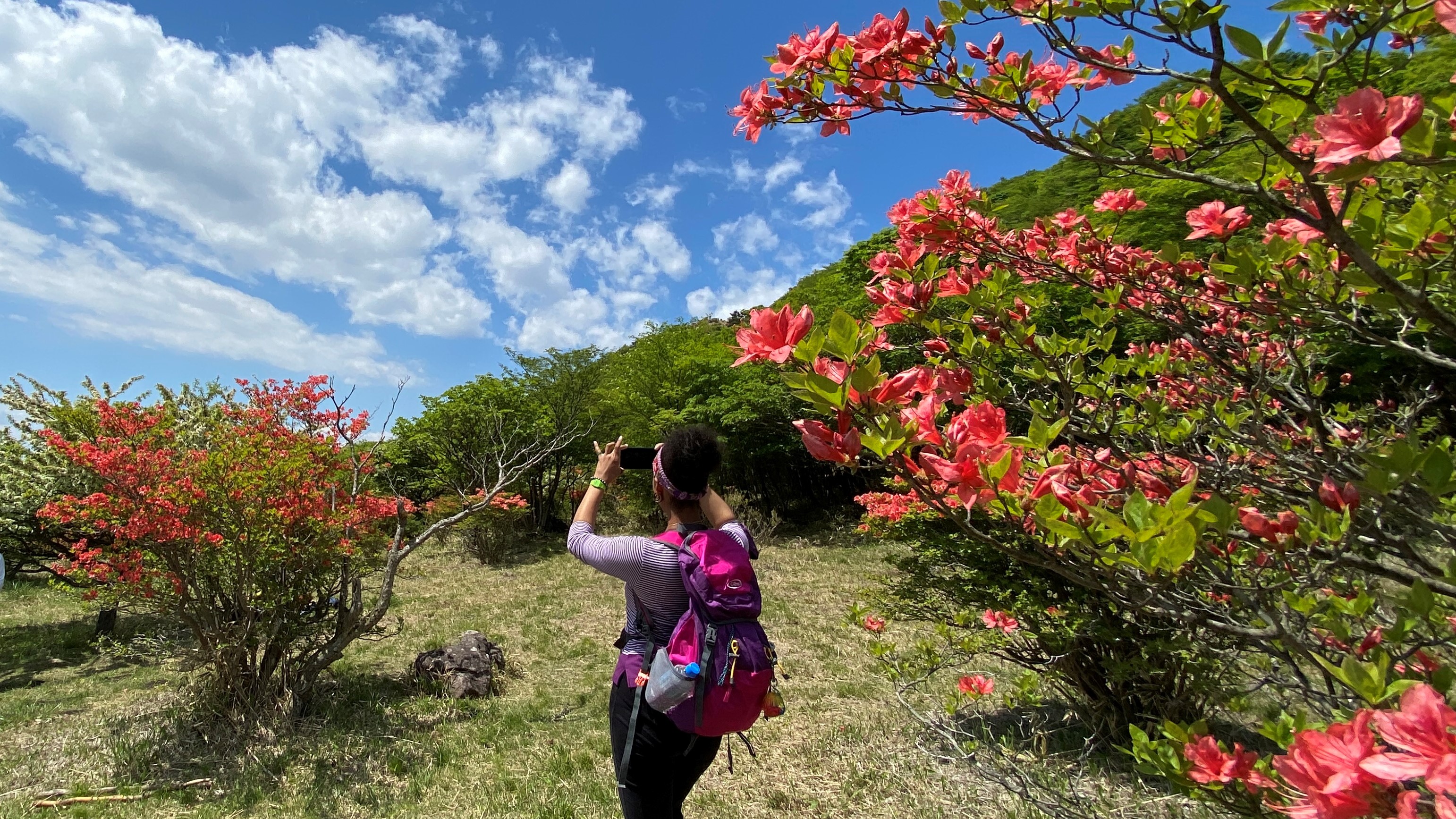 From here, we headed for Nabewariyama peak (鍋割山). Walk straight into the field from where you entered for a few steps, then turn right along the dirt path to find the trail. We climbed for a short stretch before the trees started opening up on our left to reveal views of Maebashi City. After a bit more climbing we were up on top of the ridge, with azaleas dotting the panorama on both sides of the trail.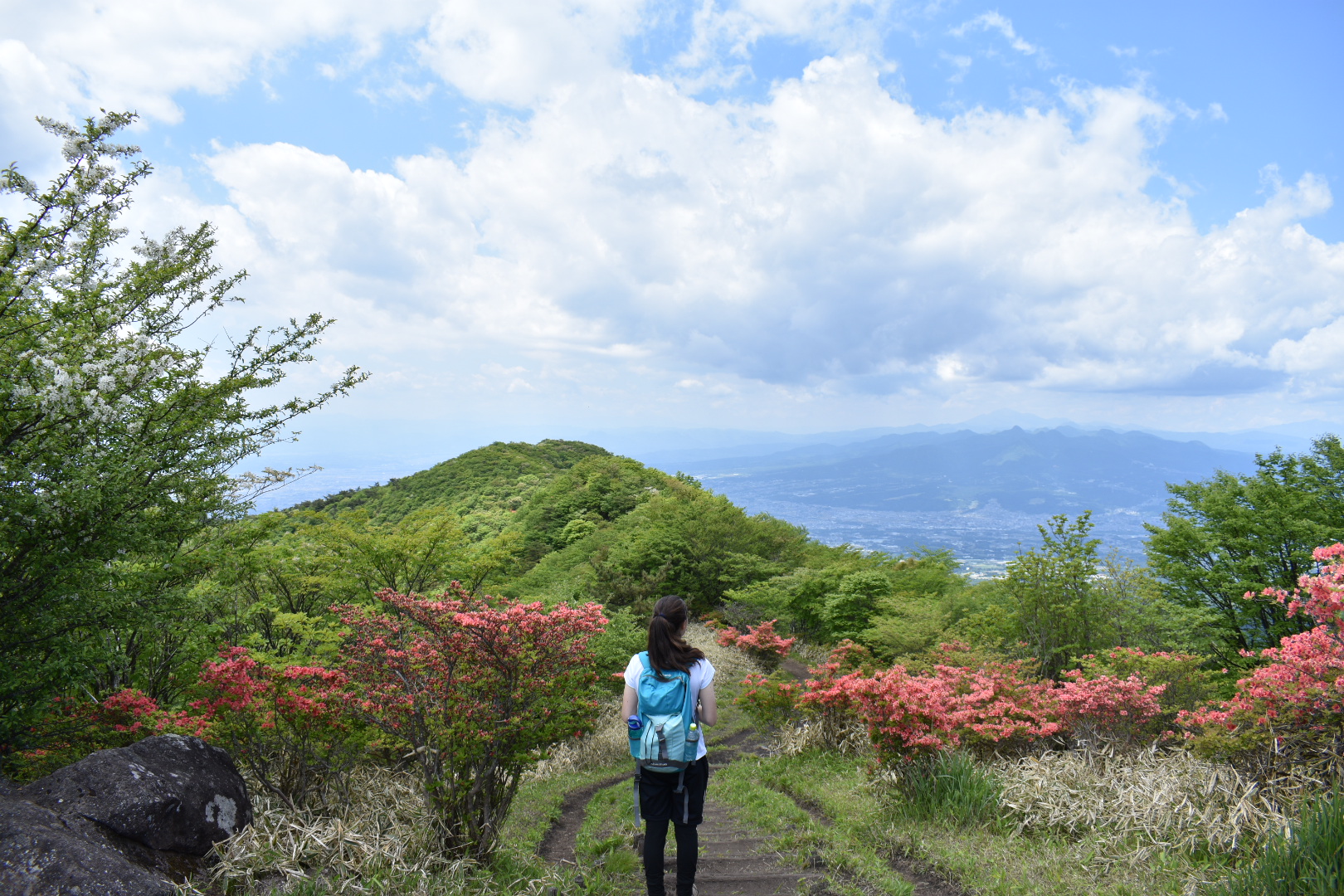 It was about 30 minutes of walking from here across several mini-peaks. The trail split occasionally, but most forks met back up again further down, so we just picked whichever side looked prettier. At Nabewariyama, we broke for a snack while looking out across all of southern Gunma and beyond.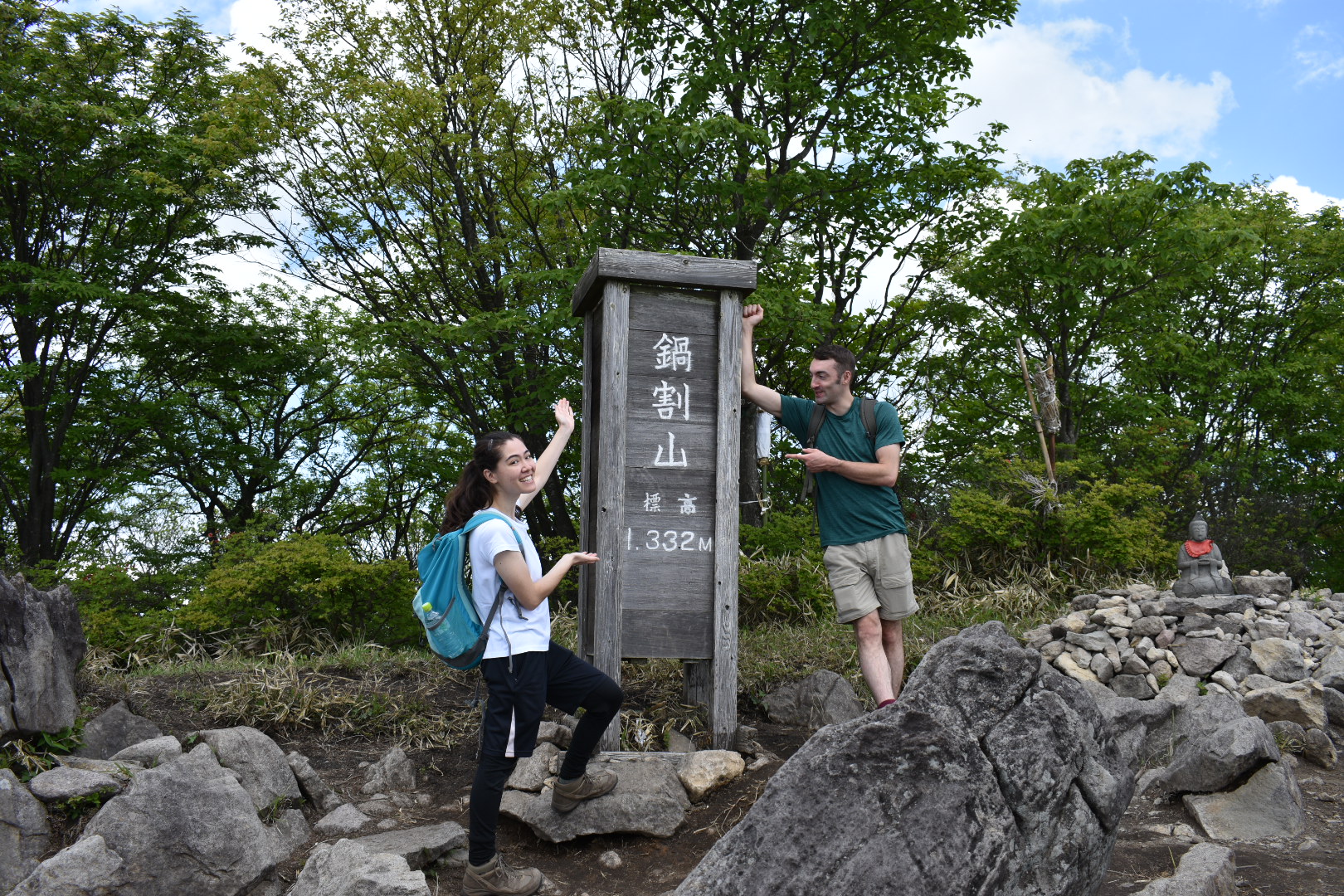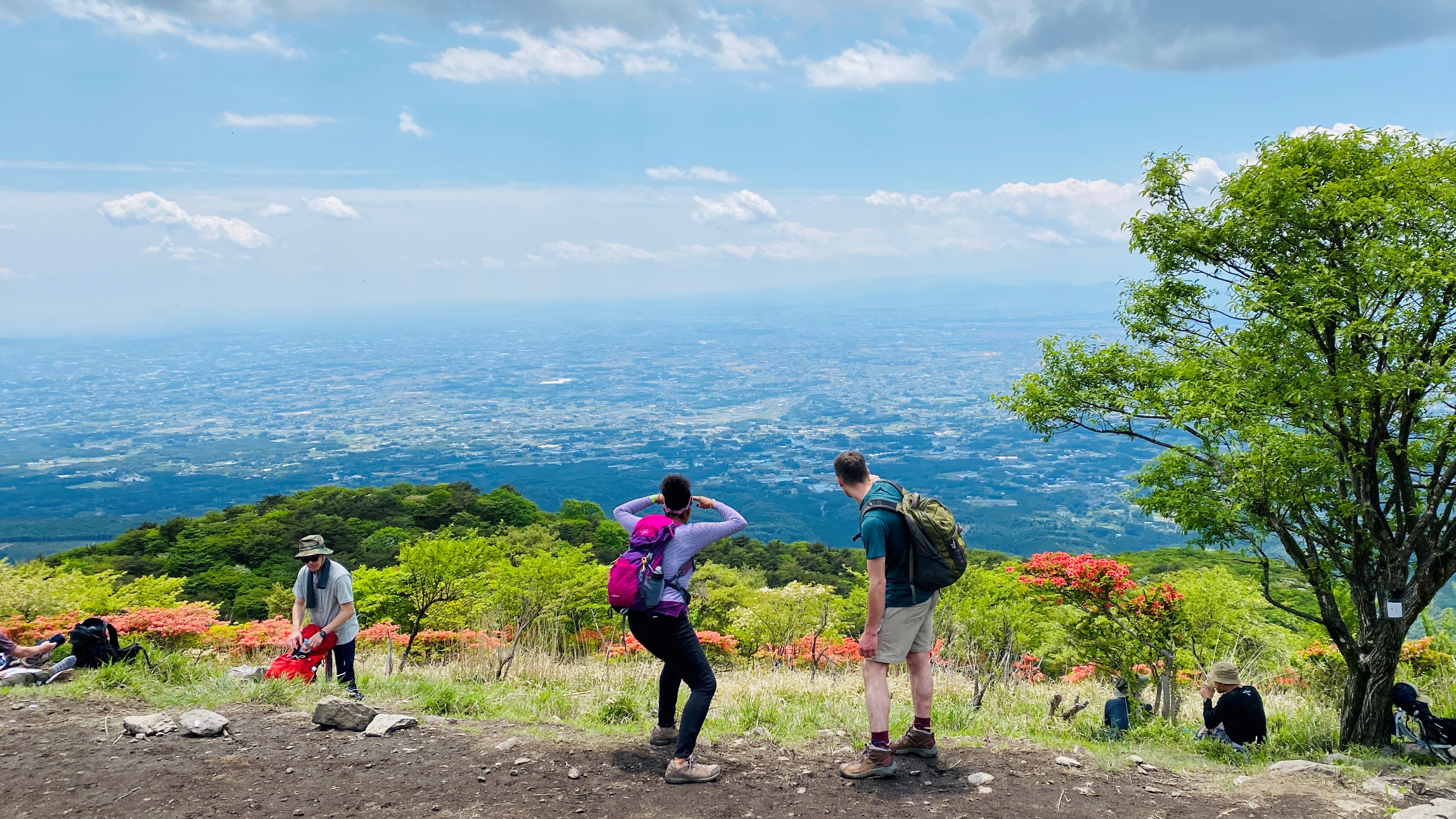 After that we turned around and headed back from where we came. We passed through the Arayama Kogen field again and took a quick detour south down a short 10-minute trail. There were azaleas down both sides of the path and it led to a little rest hut surrounded by flowers at Tanaue Intersection (棚上十字路). This little detour is optional if you want to head straight to the next summit.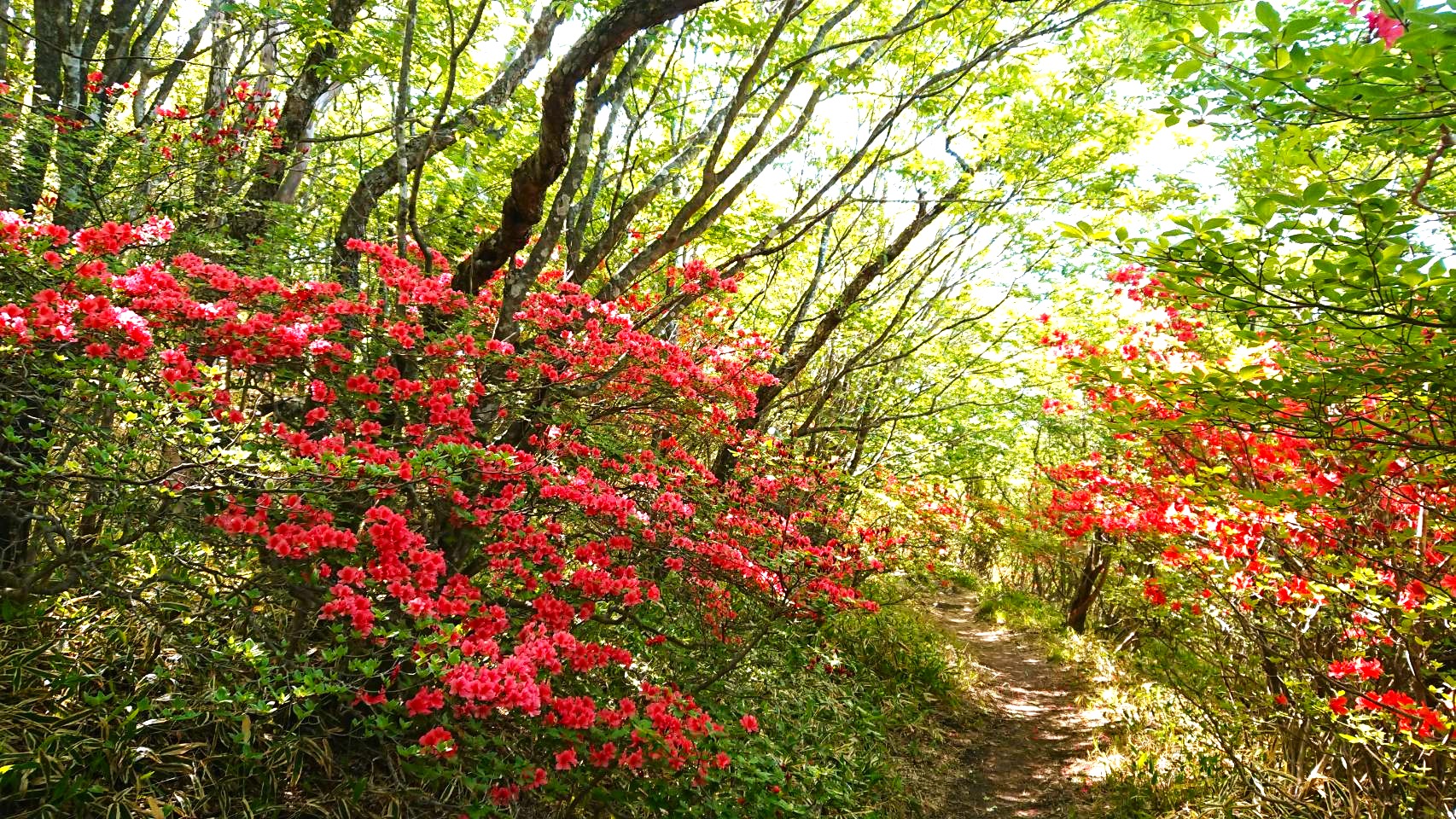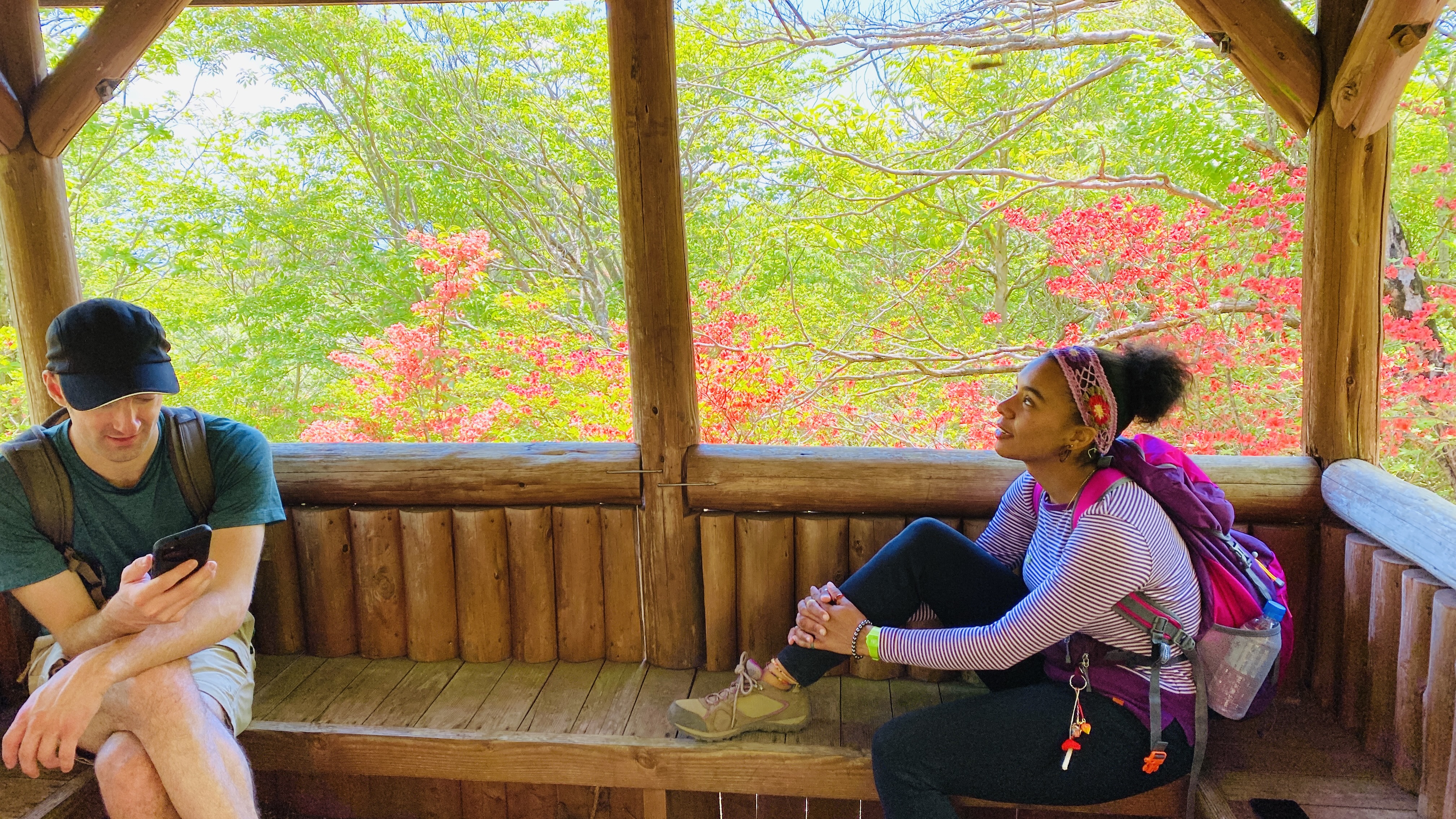 We then headed back through Arayama Kogen one last time, and turned east toward Arayama peak. The entrance to this part of the trail was right next to a large map.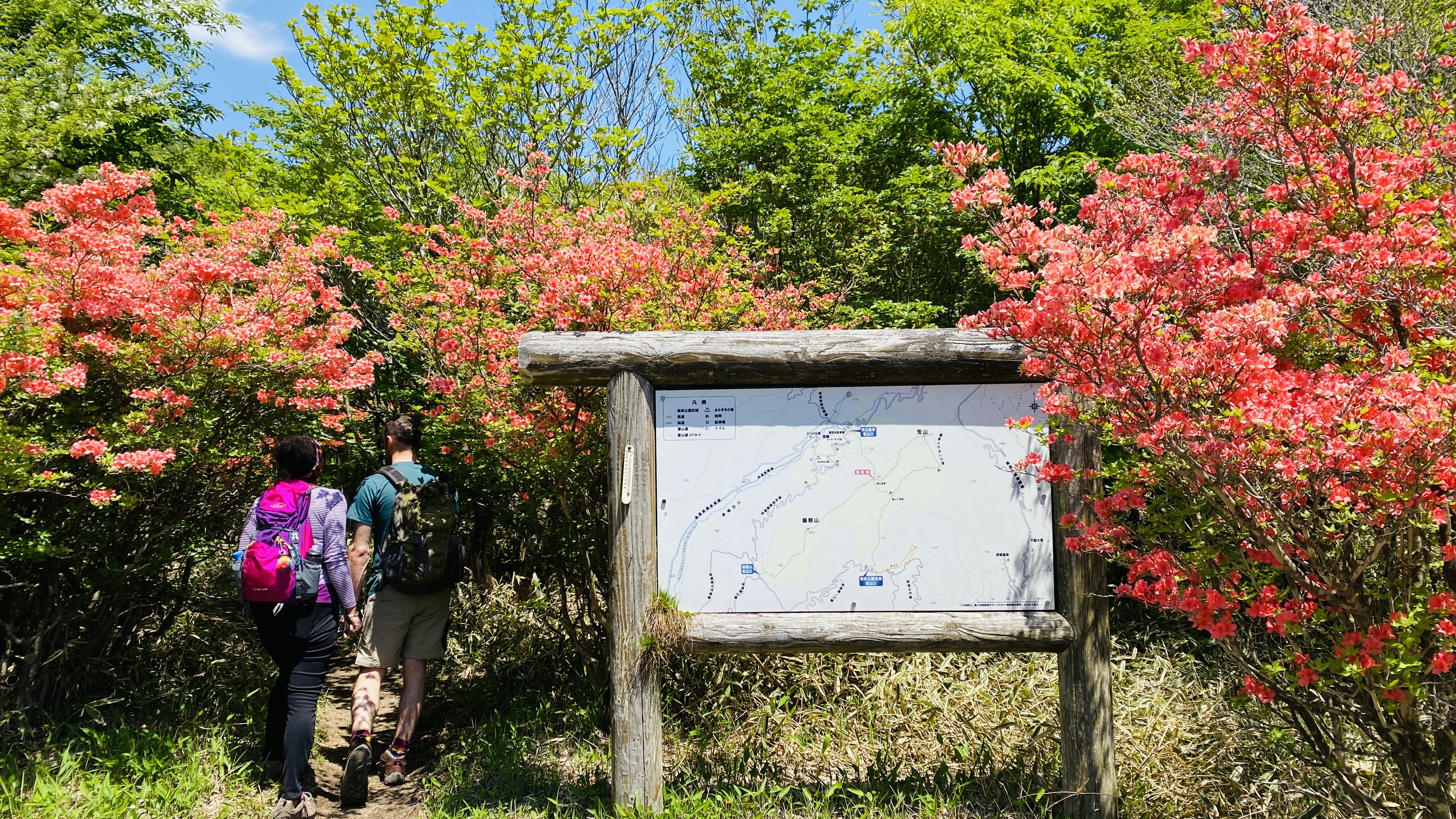 From here it was about an hour of steep climbing. There were lots of flowers to cheer us on, and some all-natural spots to take breaks.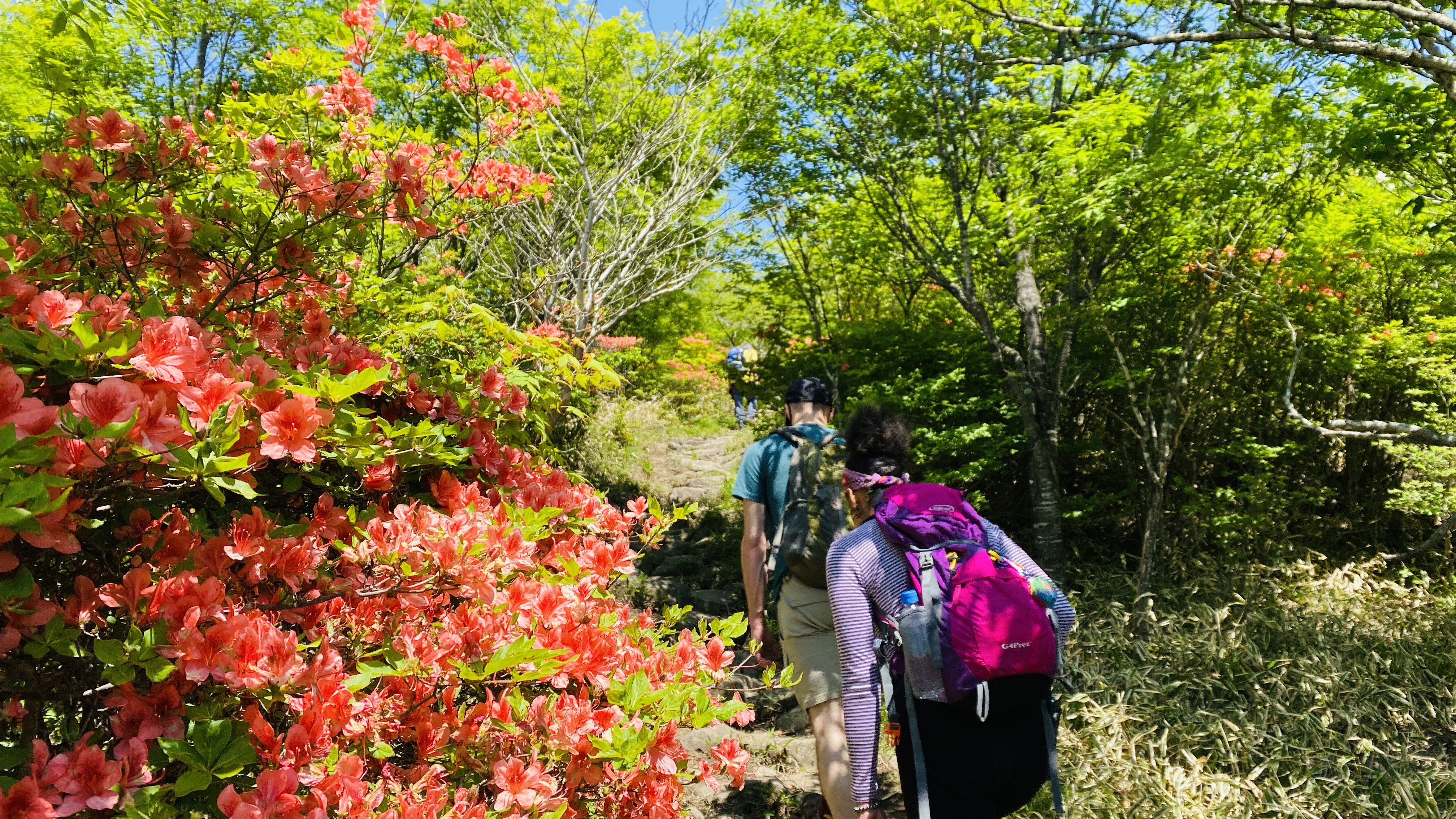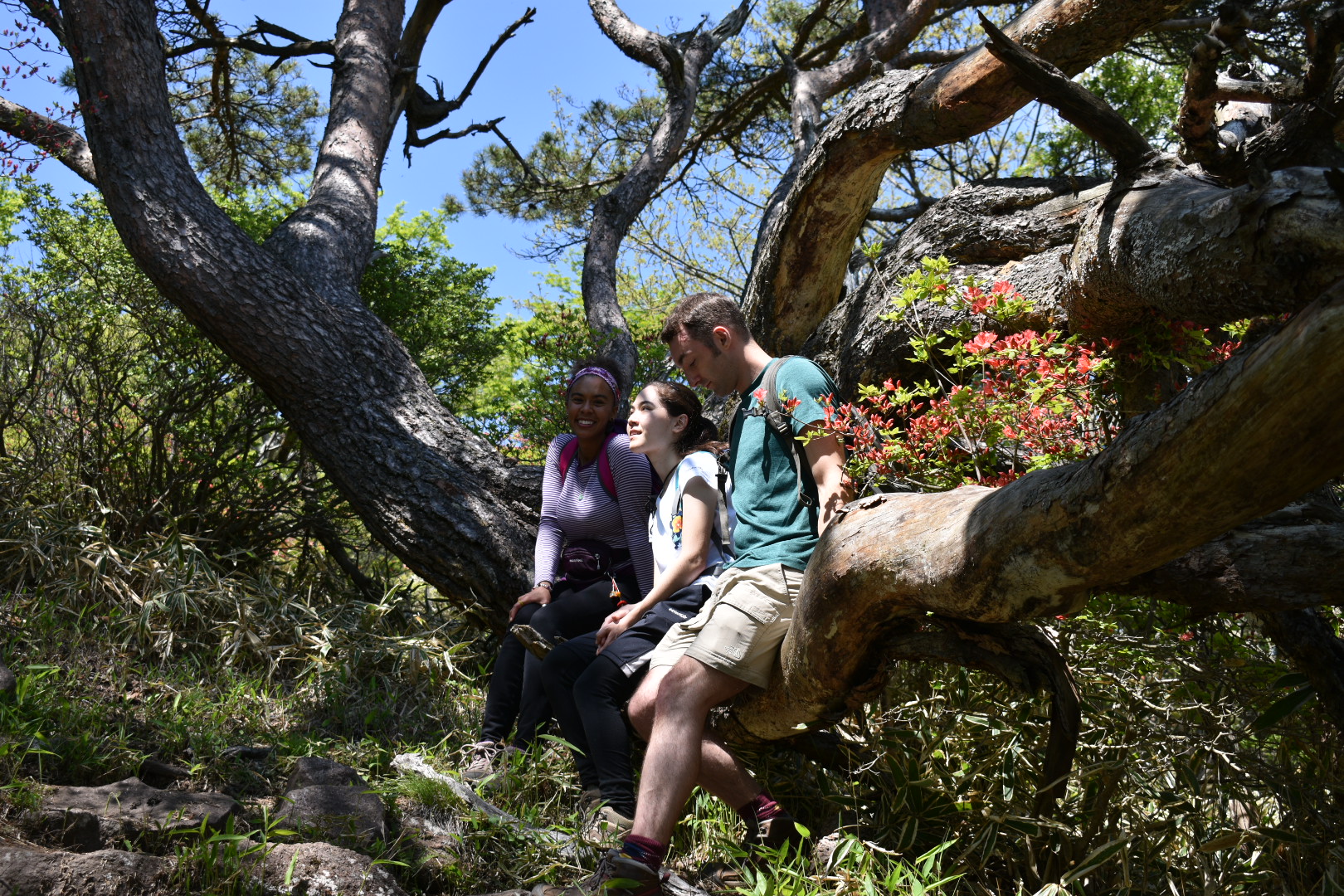 Near the top, the trail was a bit hard to find as it wove through some tall rocks toward the right, but we knew we were on the right track when we spotted a rope that had been put in place to assist ascending hikers. At the top, a small stone shrine greeted us, and we found a nice rock from which to peer out to the northwest through a gap in the trees.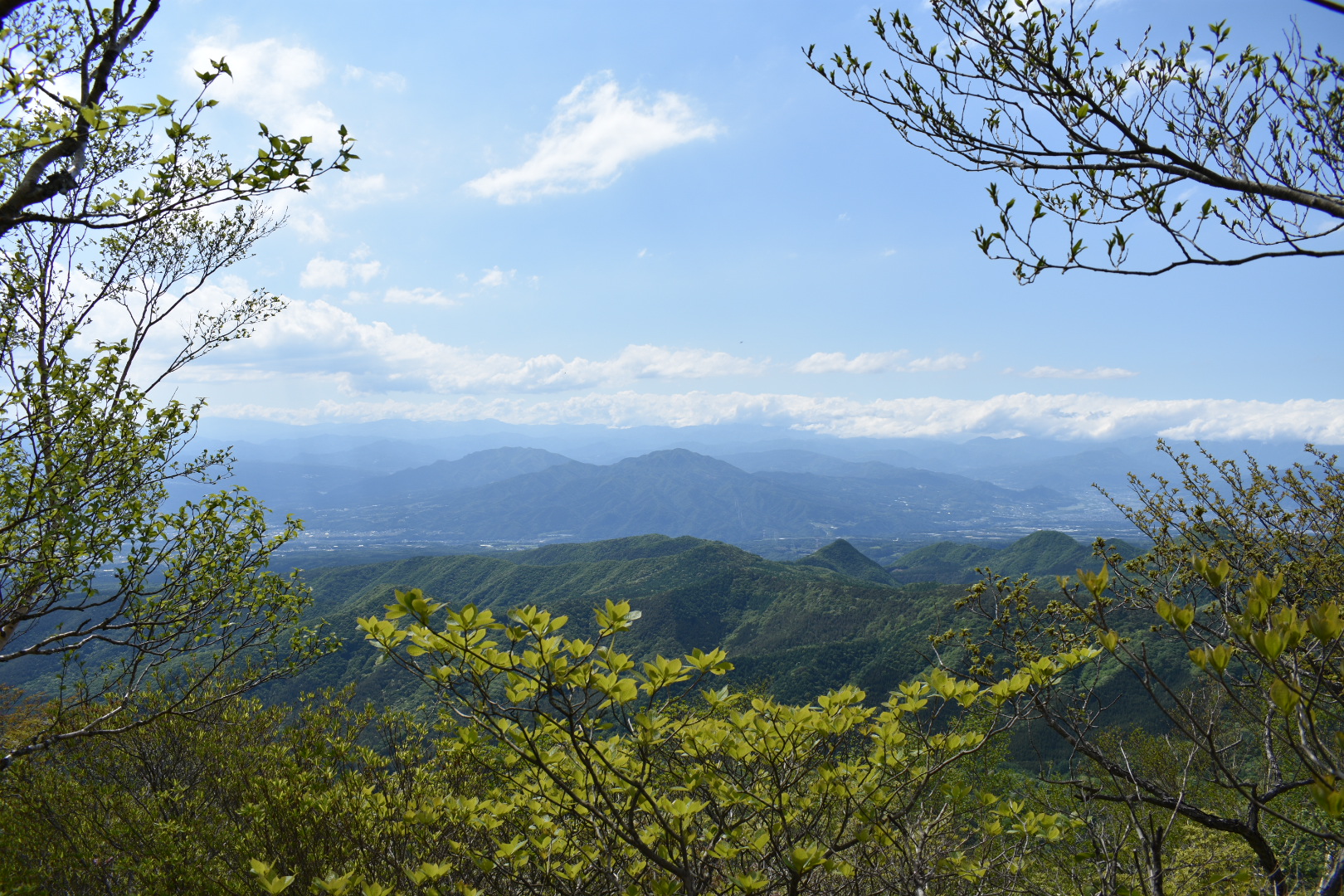 We followed the sign for Minamione Hisashiwa and started a short descent. The trail down is a bit steep but mostly has good footing. Part way down was a rocky viewpoint to the left marked as Hisashi Iwa (ひさし岩). Make sure not to miss this one, as it's one of the nicest views on the trail! This was the ideal place for a snack break or lunch. The view was better than the Arayama summit since there were no trees in the way.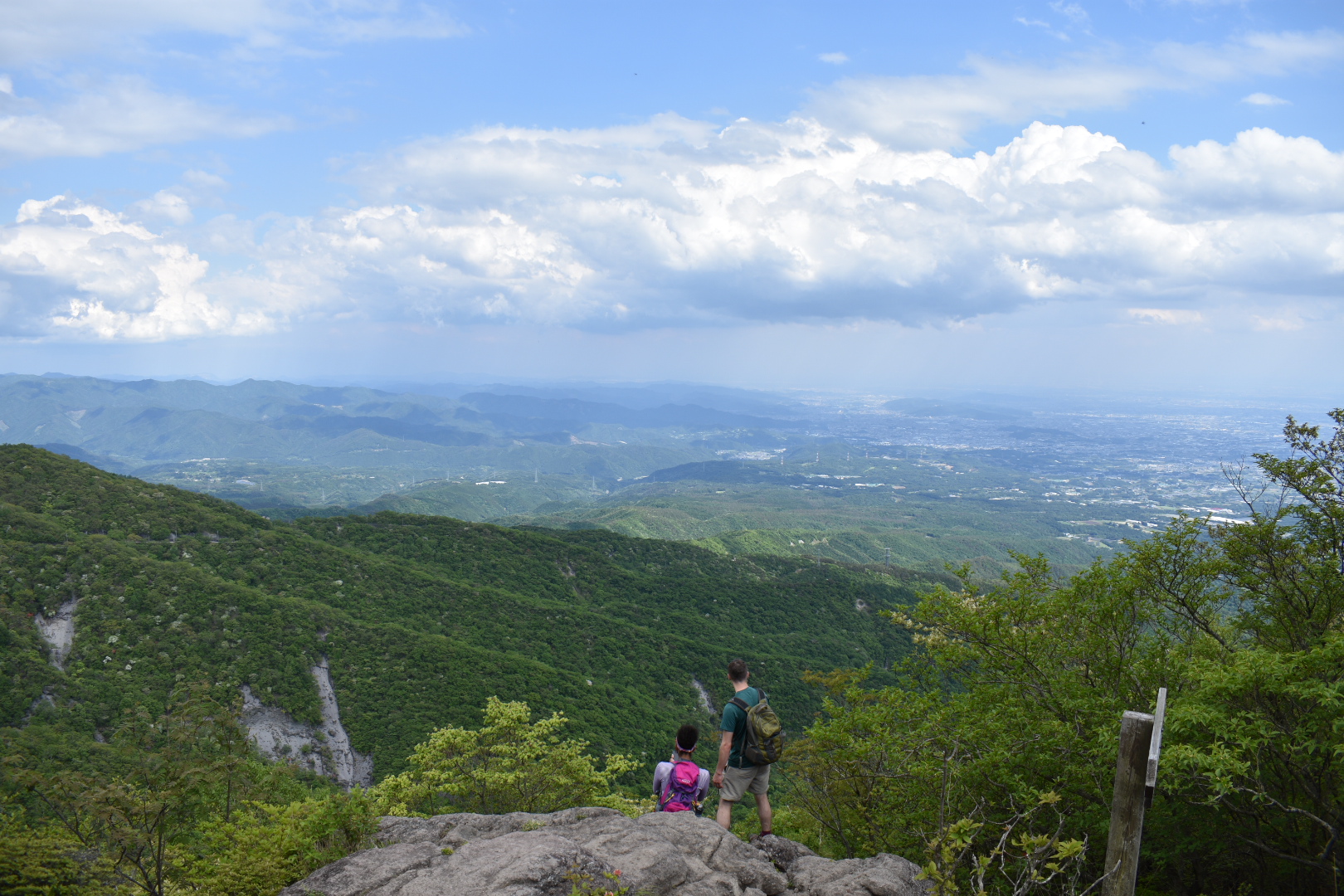 Continue down for another 10 minutes until you get to a small hut, and turn left towards Lake Konuma (小沼). The trail is narrow but mostly level, with some gradual ups and downs. There was one section that had caved in from a landslide, so cross carefully.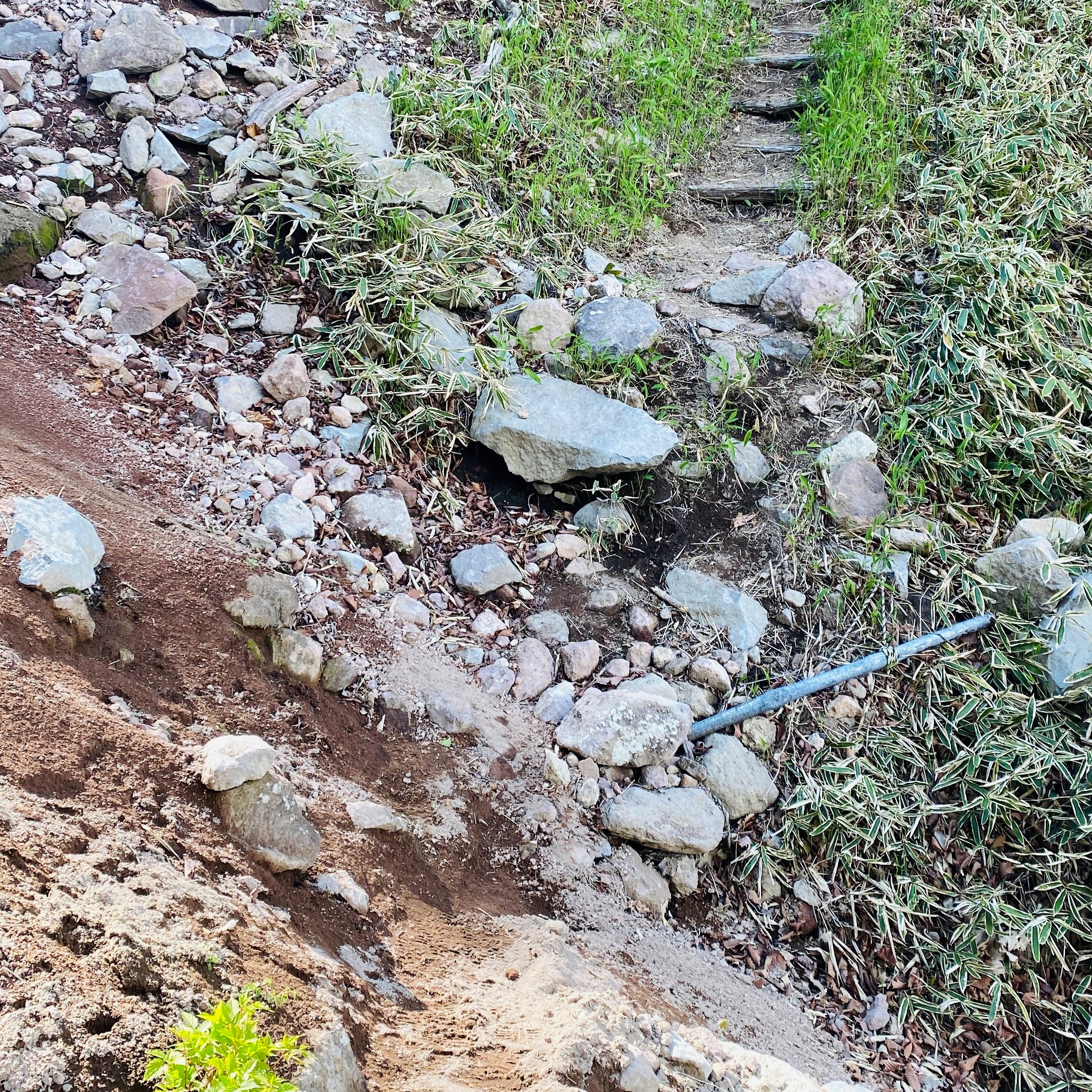 After 25 minutes we turned left at the fork and soon came out onto a road with a mini parking lot and a large trail map sign. We continued left and walked up something resembling a trail next to the road for a few minutes. Then we crossed the road at a sign for Konuma, walked through a gravel parking lot and into another very green trail (signs for Chinoike). Make sure to turn left at the intersection a minute in. There were more flowers along this part, including some purple wadanum azaleas (togoku mitsuba tsutsuji).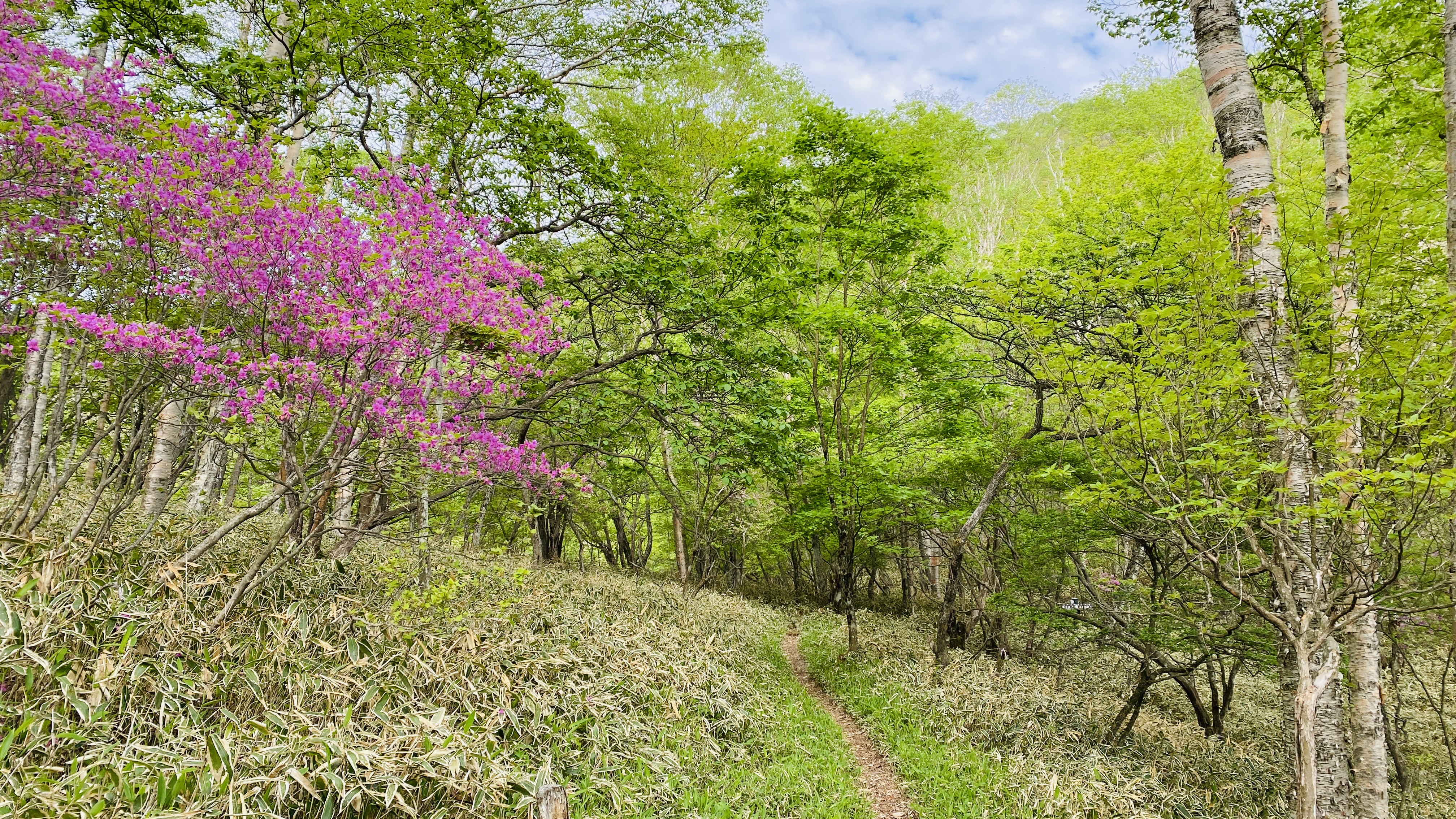 The trail was mostly flat for about 30 minutes. We walked past a trail to the left marked Chinoike, which means "blood lake", but all there was, when we took the short detour to see, was a grassy field. Apparently during the rainy season, the field becomes a shallow pond filled with red water fleas that turn the pond crimson. You can ignore the sign and continue straight instead, up a steep incline. There were some log steps in disrepair, so we opted for the dirt path beside them.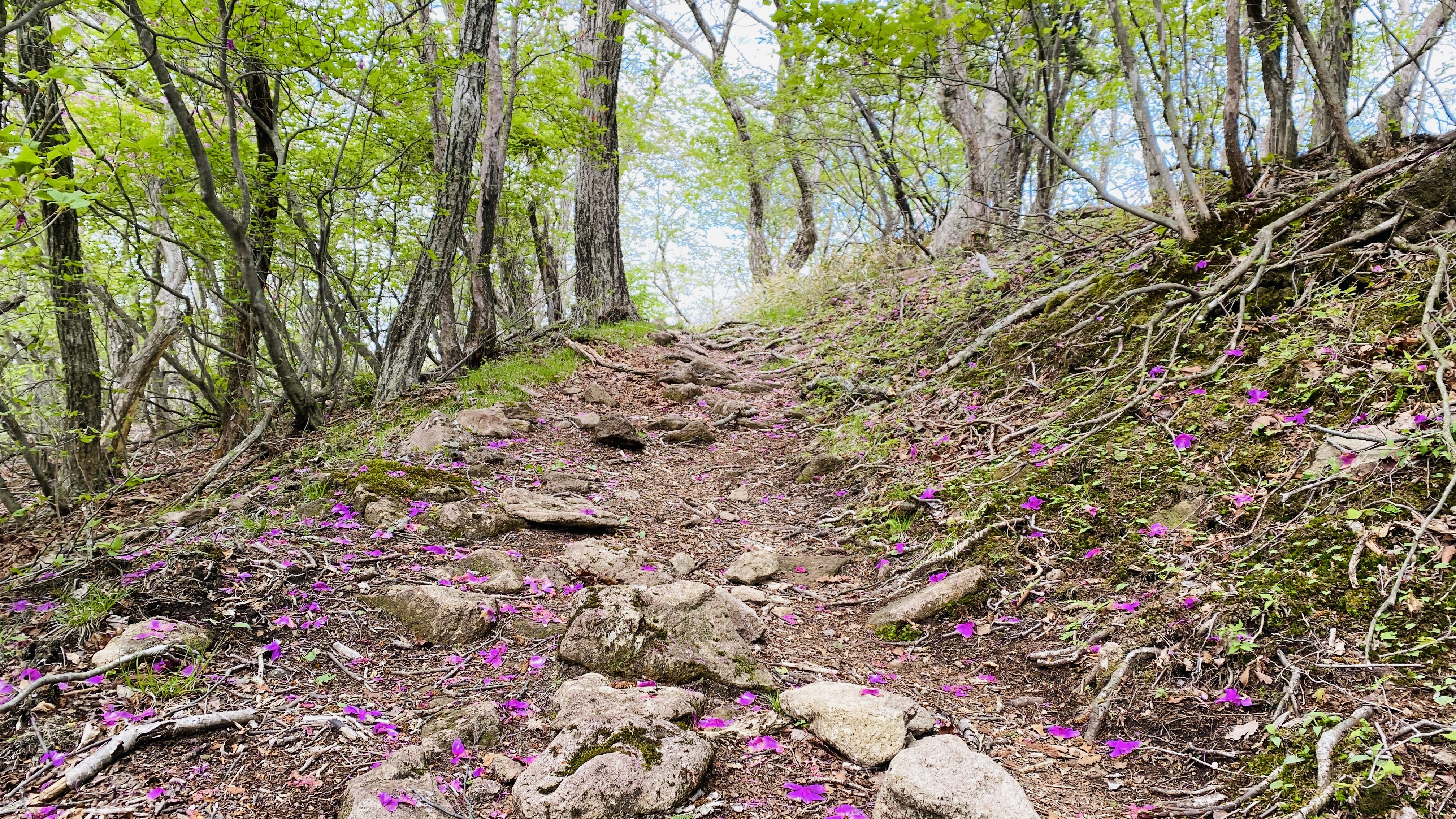 The slope curved to the left, and after a few minutes we started catching glimpses of Lake Konuma, one of Akagi's two crater lakes. We passed some picnic tables and descended a bit towards the lake, turning left at a white crabapple blossom tree. After another few minutes, we arrived at Konuma Parking Lot. There are bathrooms here if you need them.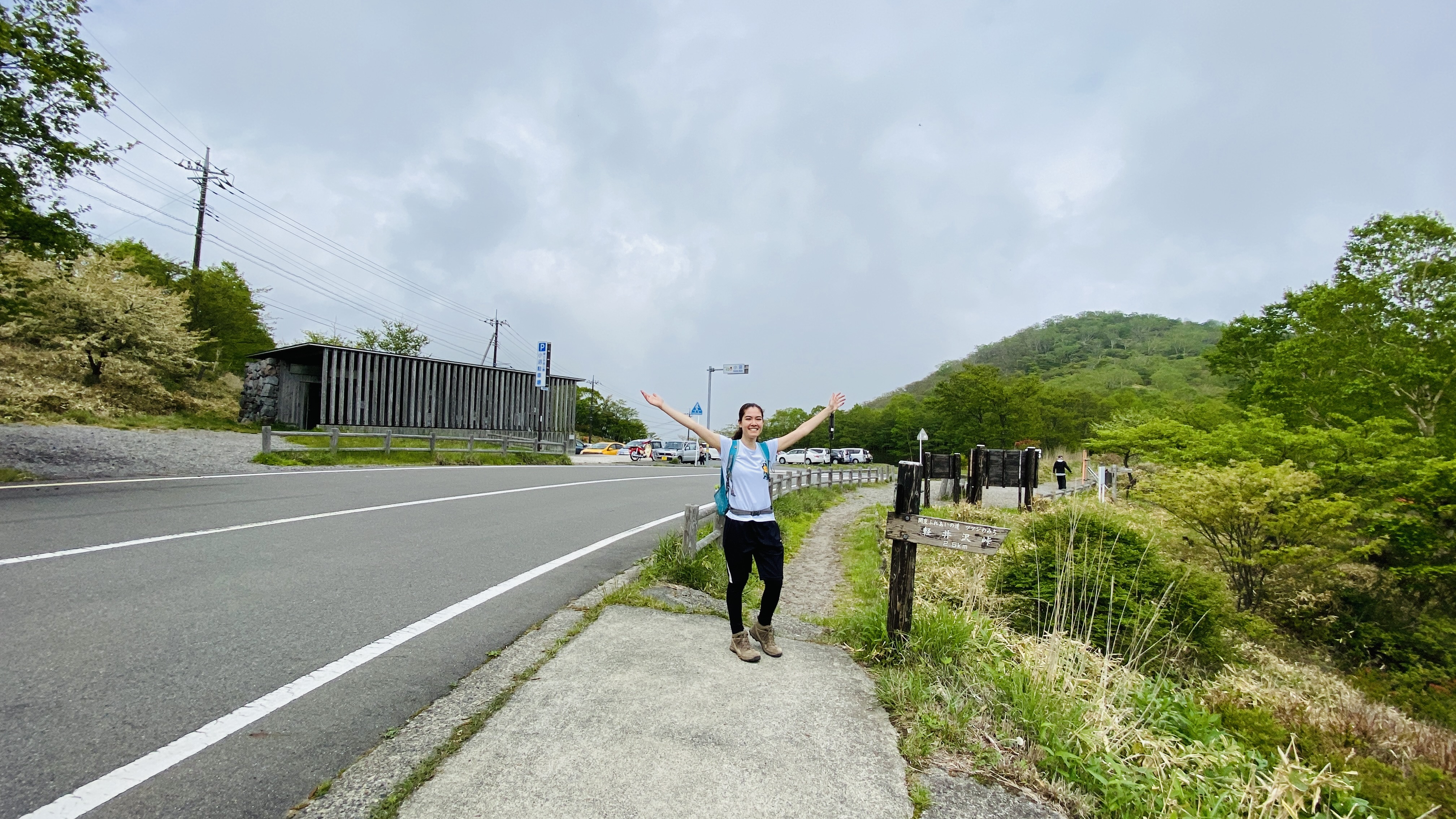 Otherwise continue to the right and descend down onto the lake shore. There's a trail all the way around the lake, so pick your favorite direction and go for it. Alternatively, if you're pressed for time, you can cut out the lake loop, since the next part of the trail continues from here by the parking lot.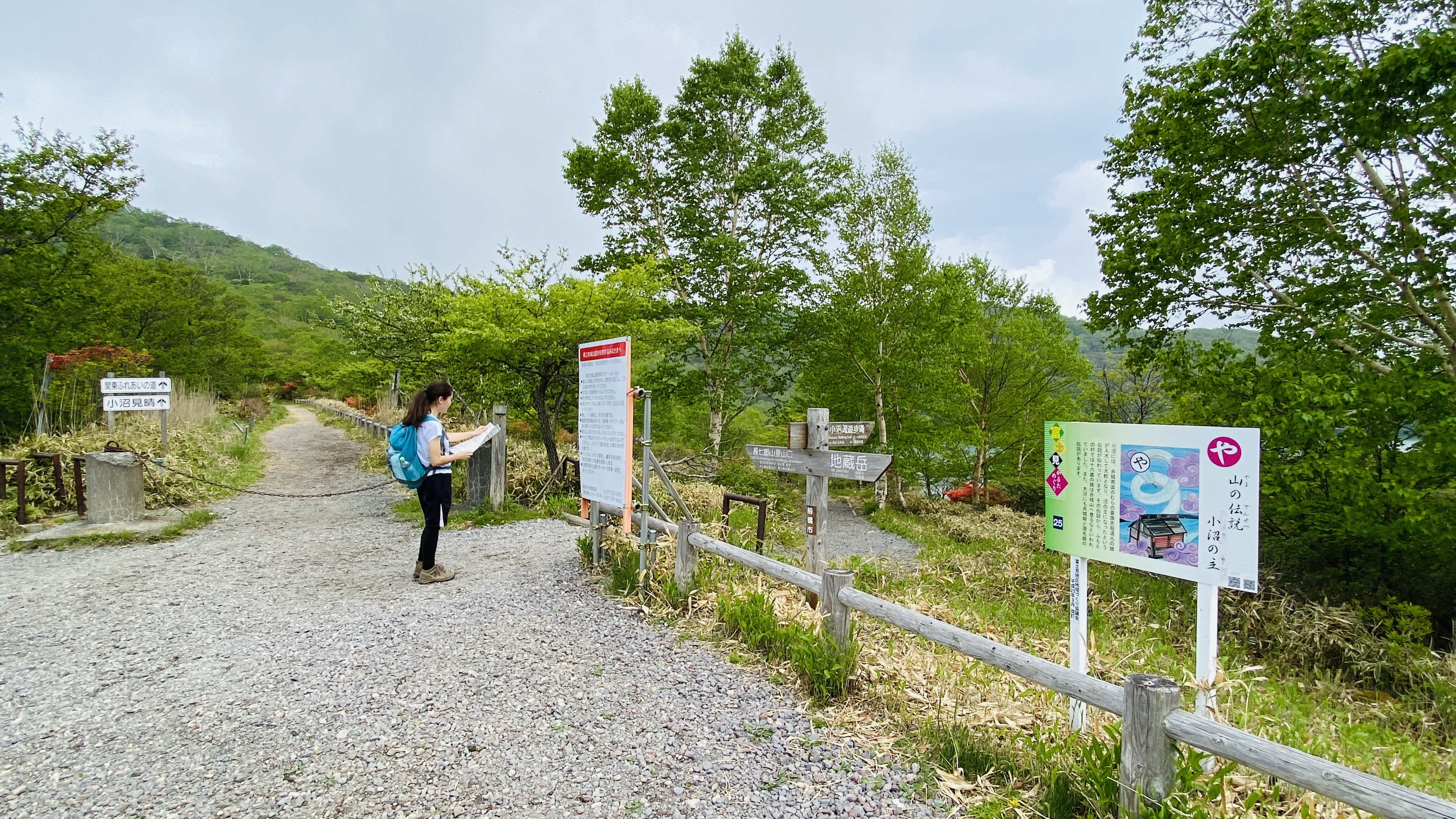 We walked around clockwise and enjoyed the white quinquefolium azaleas and some more purple wadanums as well.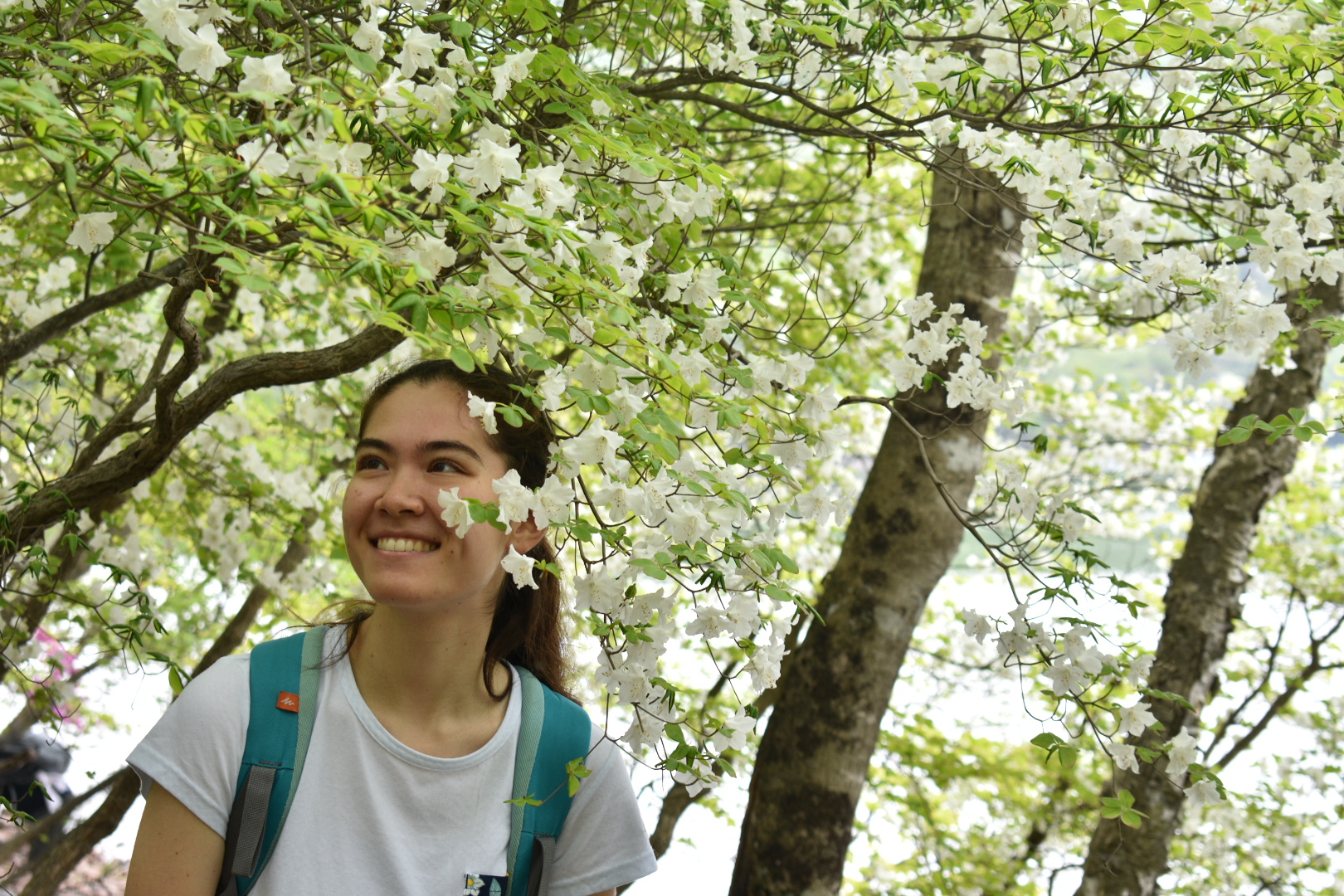 Full disclosure: we took pictures for this article in two rounds about a week apart, so there's a chance the white azaleas won't be in full bloom yet during peak pink azalea bloom at Arayama and vice versa. This means you're more likely to see at least some of them, though, even if the timing is off that year.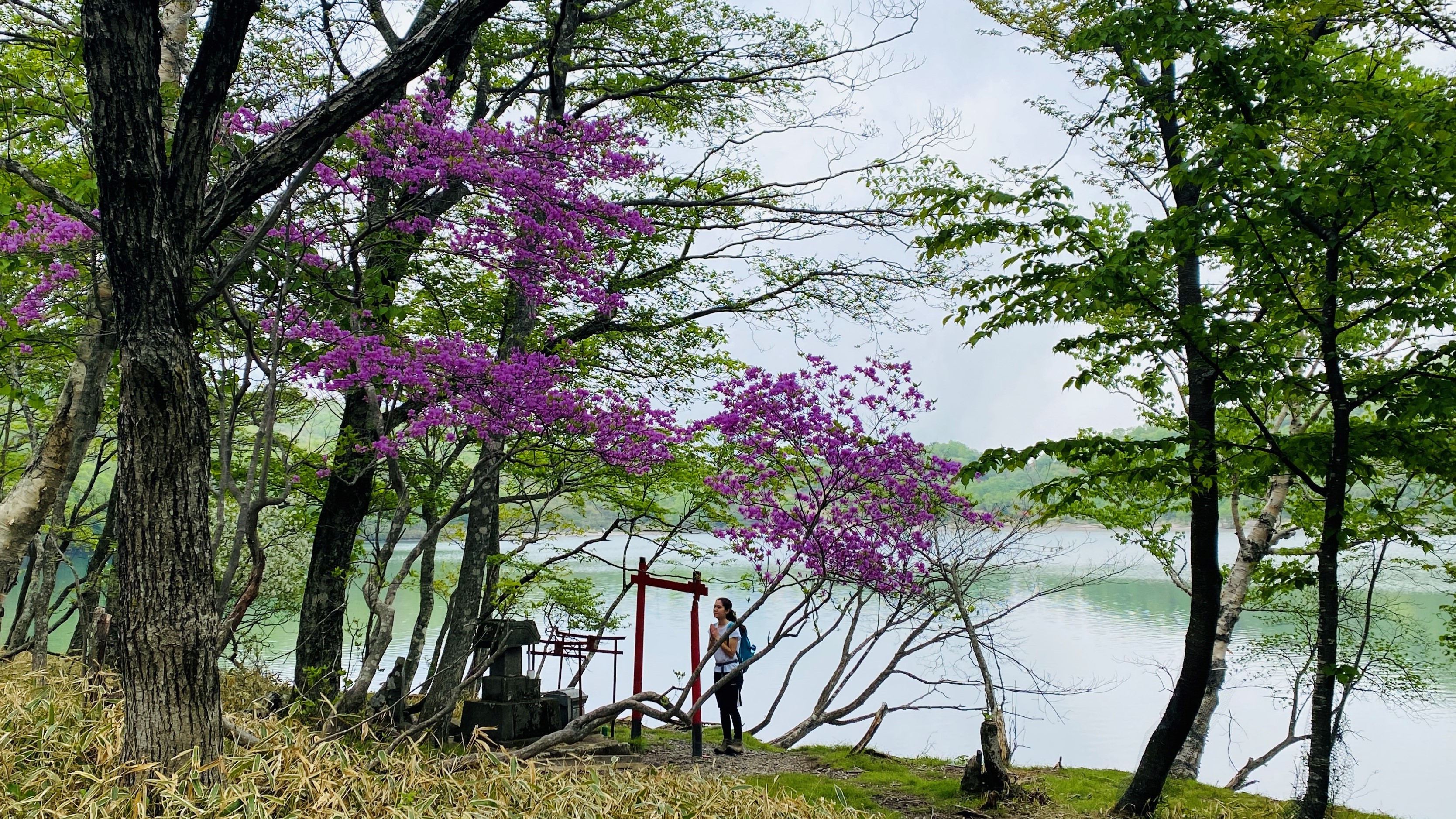 The path splits once or twice on the western edge of the lake. We hugged the lake shore until we got back to the path that we'd come down from the parking lot, and took the same log-lined stairs back up. From here, head up the wide path between the lake and the road, towards Torii Toge viewpoint. Signs point to Konuma Miharashi (小沼見晴). There's a chain across the start of the path, but it's to keep out cars, not people.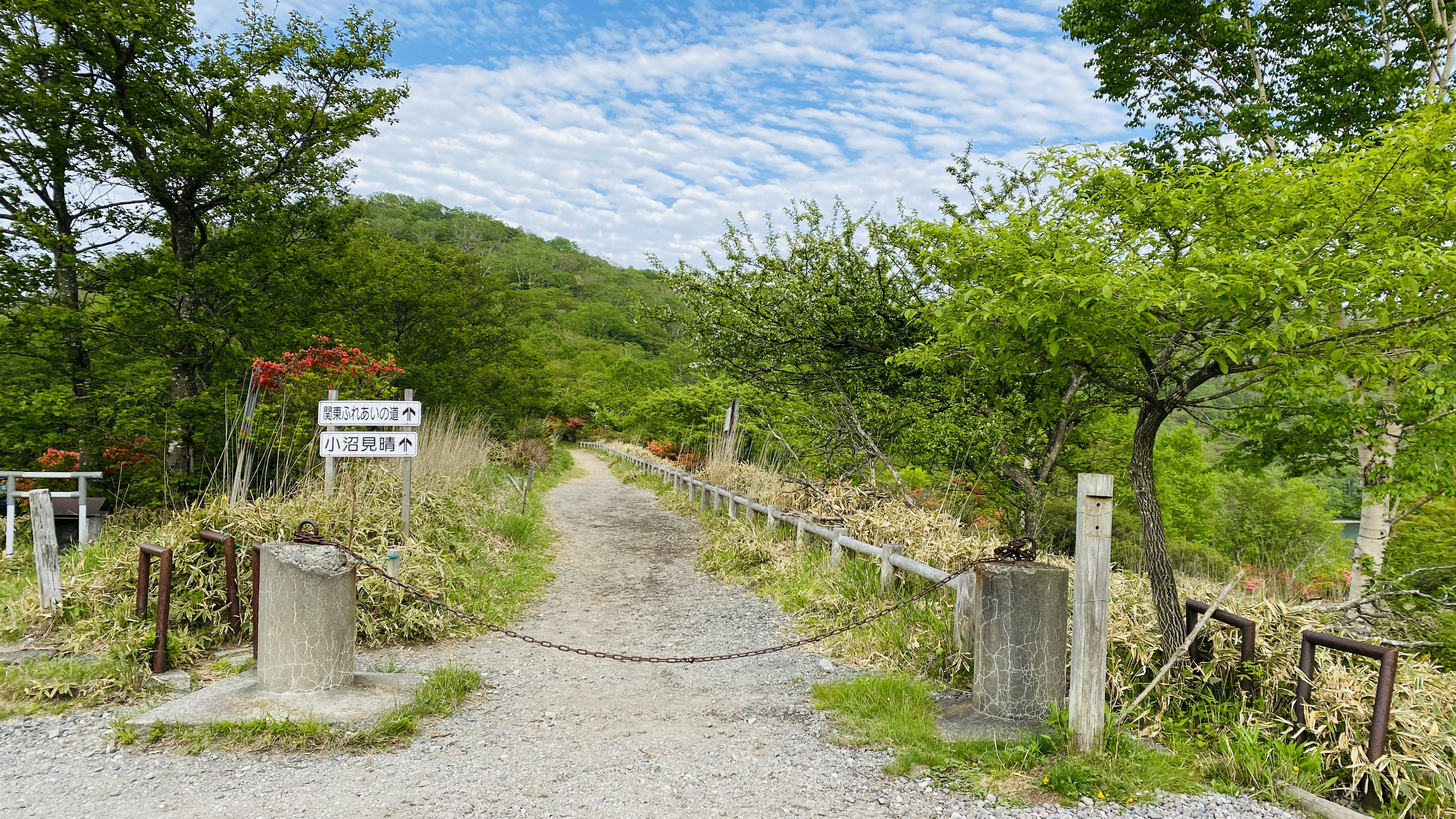 Snap more pictures of azaleas and the lake from above, and stop for a view of Akagi's tallest peak, Kurobi, to the left. Apparently on a clear day, you can see Mt. Fuji to the right.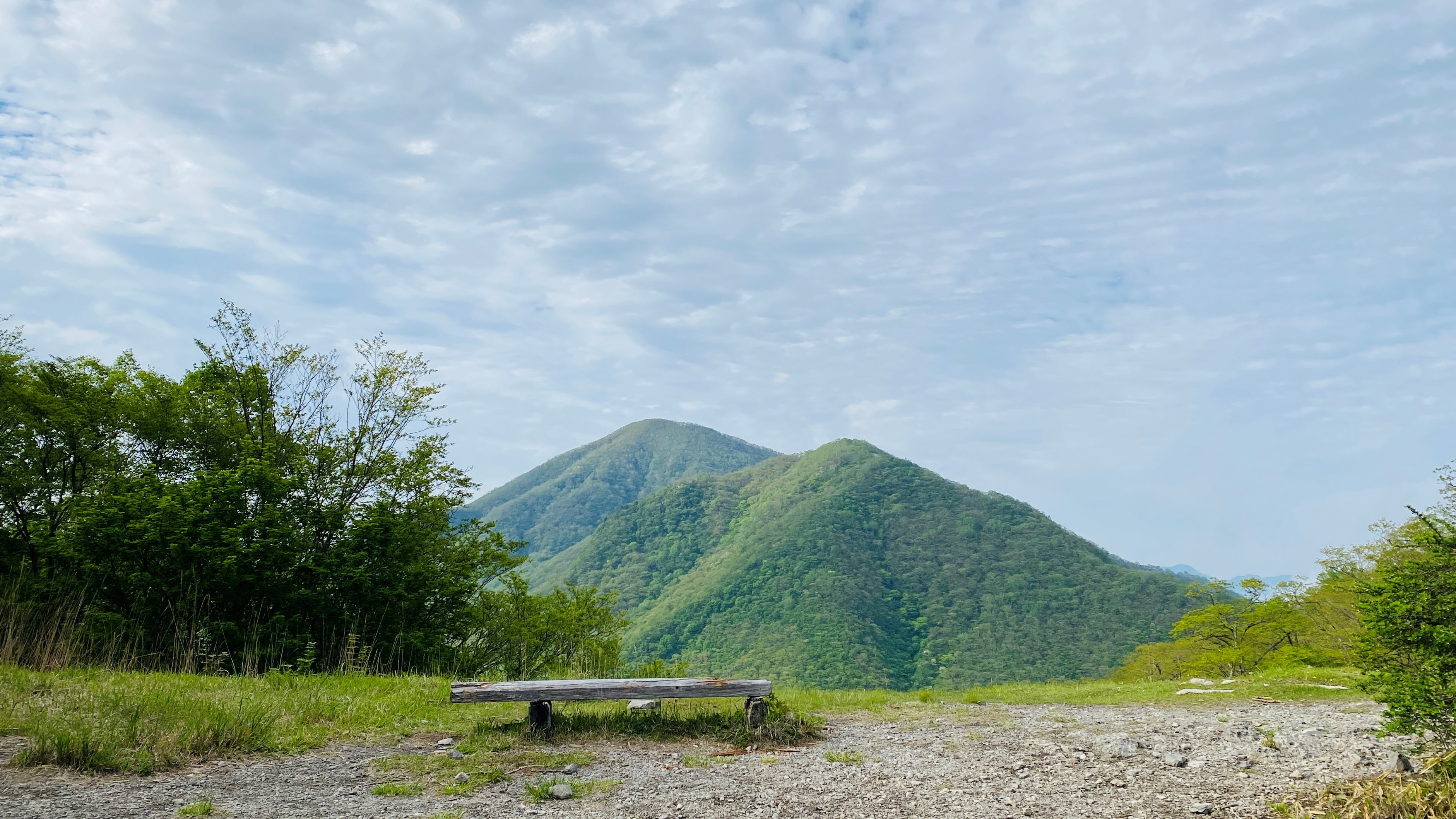 When you get to the big trail map, follow the path to the left to descend. The signs will point to Torii Toge (鳥居峠) and Kakumanbuchi Marsh (覚満淵). There are wooden steps down the steep part, and then dirt trail. After 20 minutes we arrived at Torii Toge. From the viewpoint at the west side of the parking lot, we could see all the way across the Kanto Plains--on a really clear day, you can apparently see all the way to Tokyo.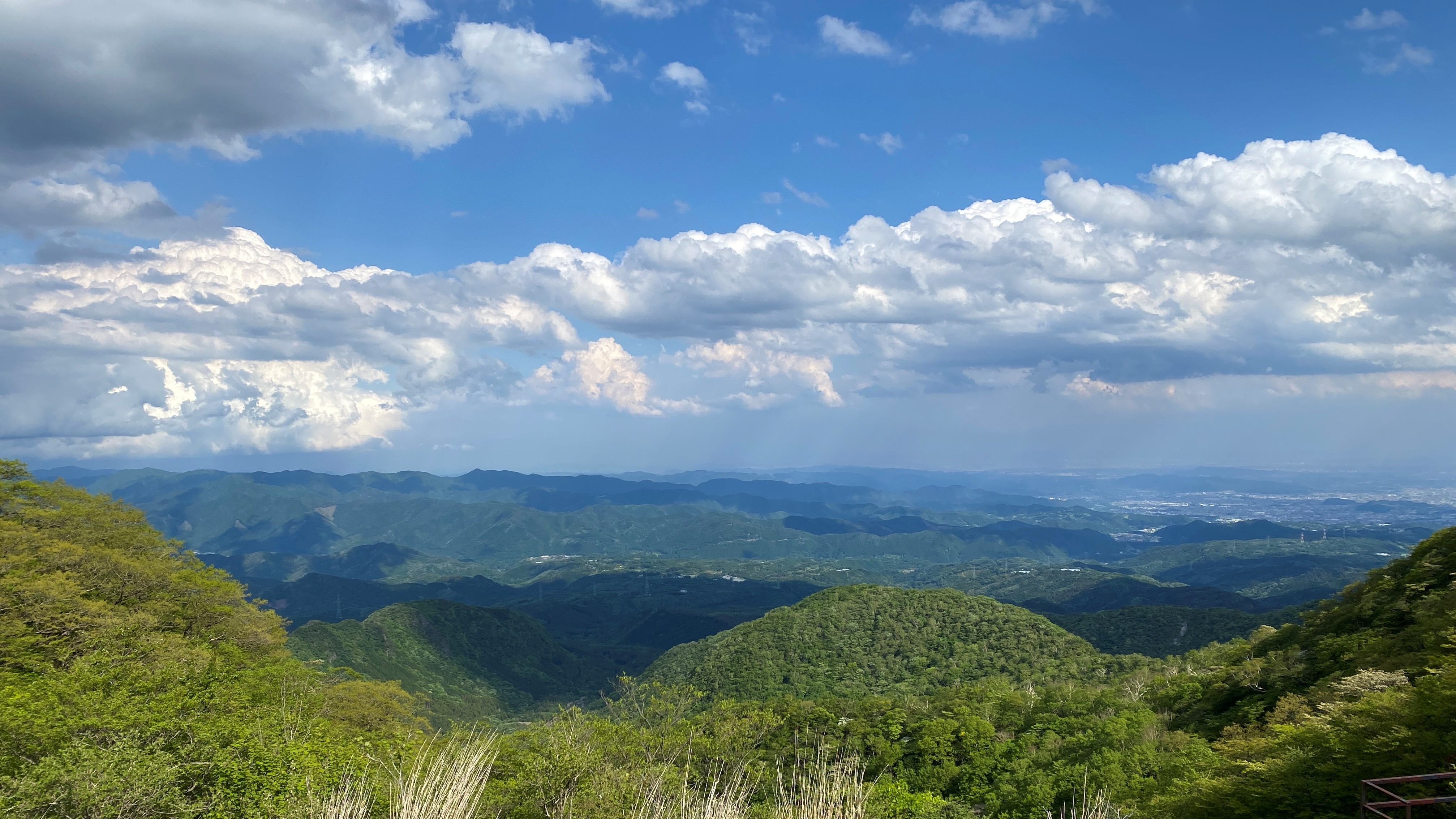 And if it's cloudy, don't fret: low hanging clouds stretching out in a sea below the viewpoint make for a sight worth seeing in its own right.
On the other side of the lot we could see Kakumanbuchi, Akagi's summit marshland.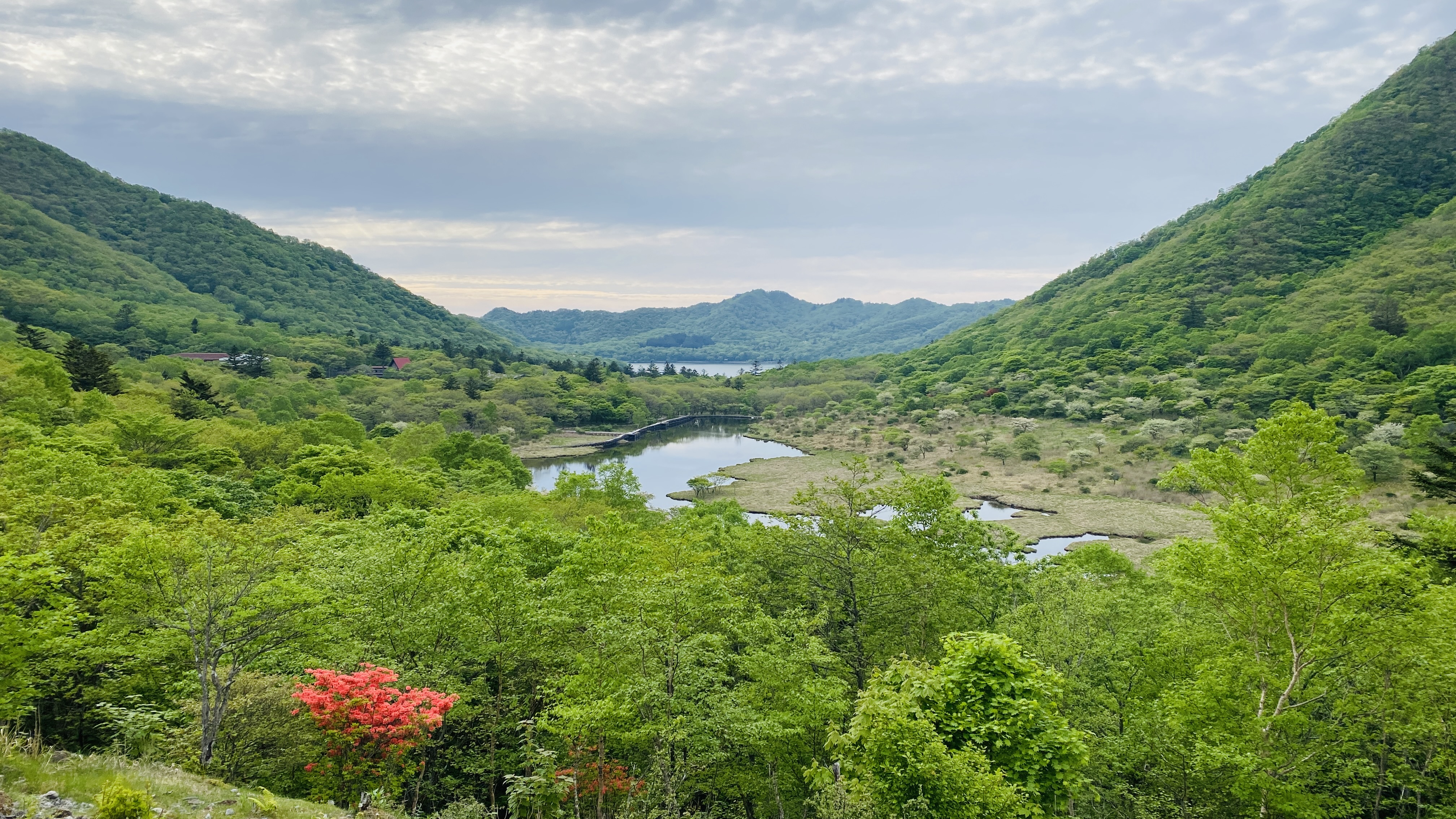 We stopped for an early dinner at the restaurant here, Suntory Beer Barbeque Hall.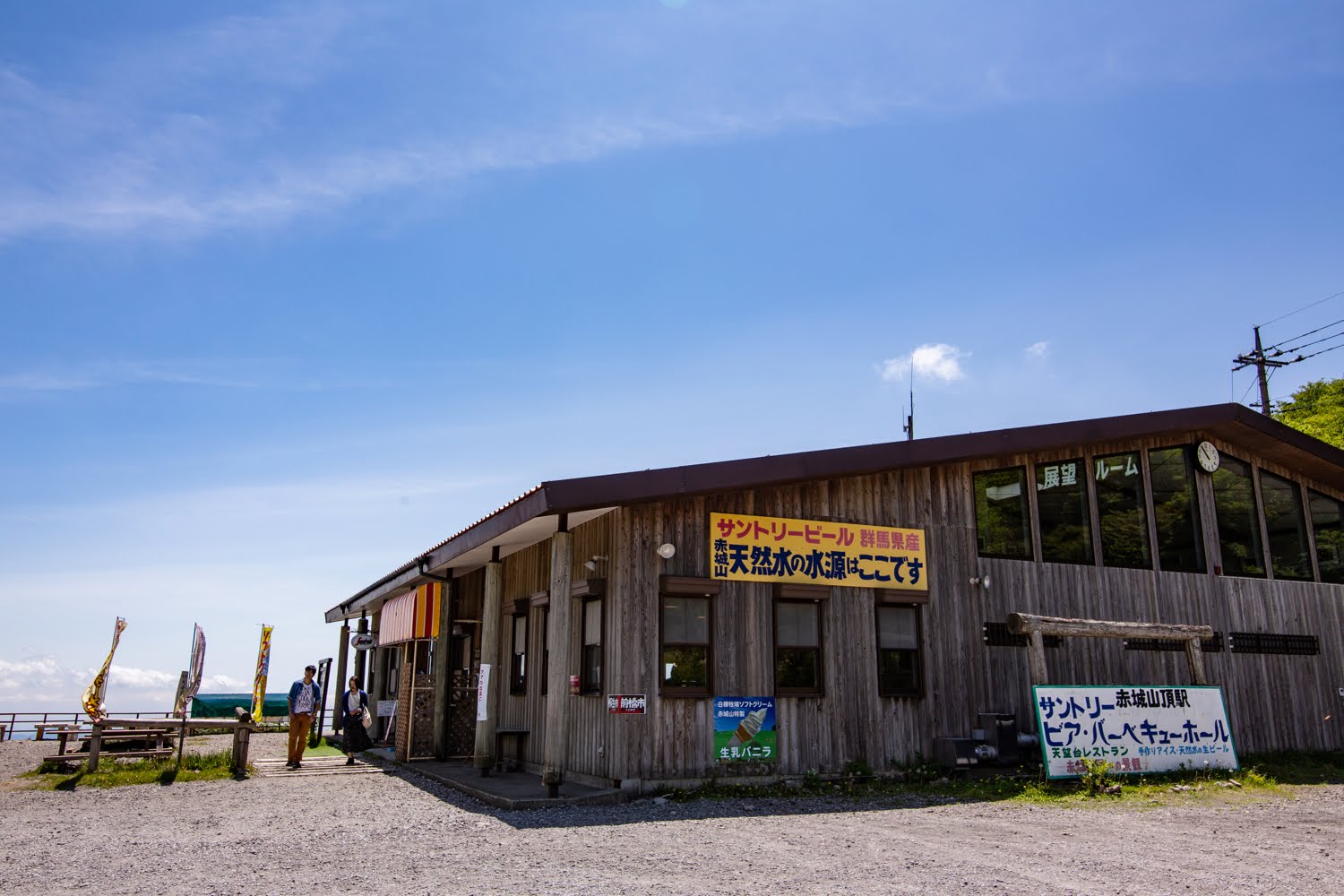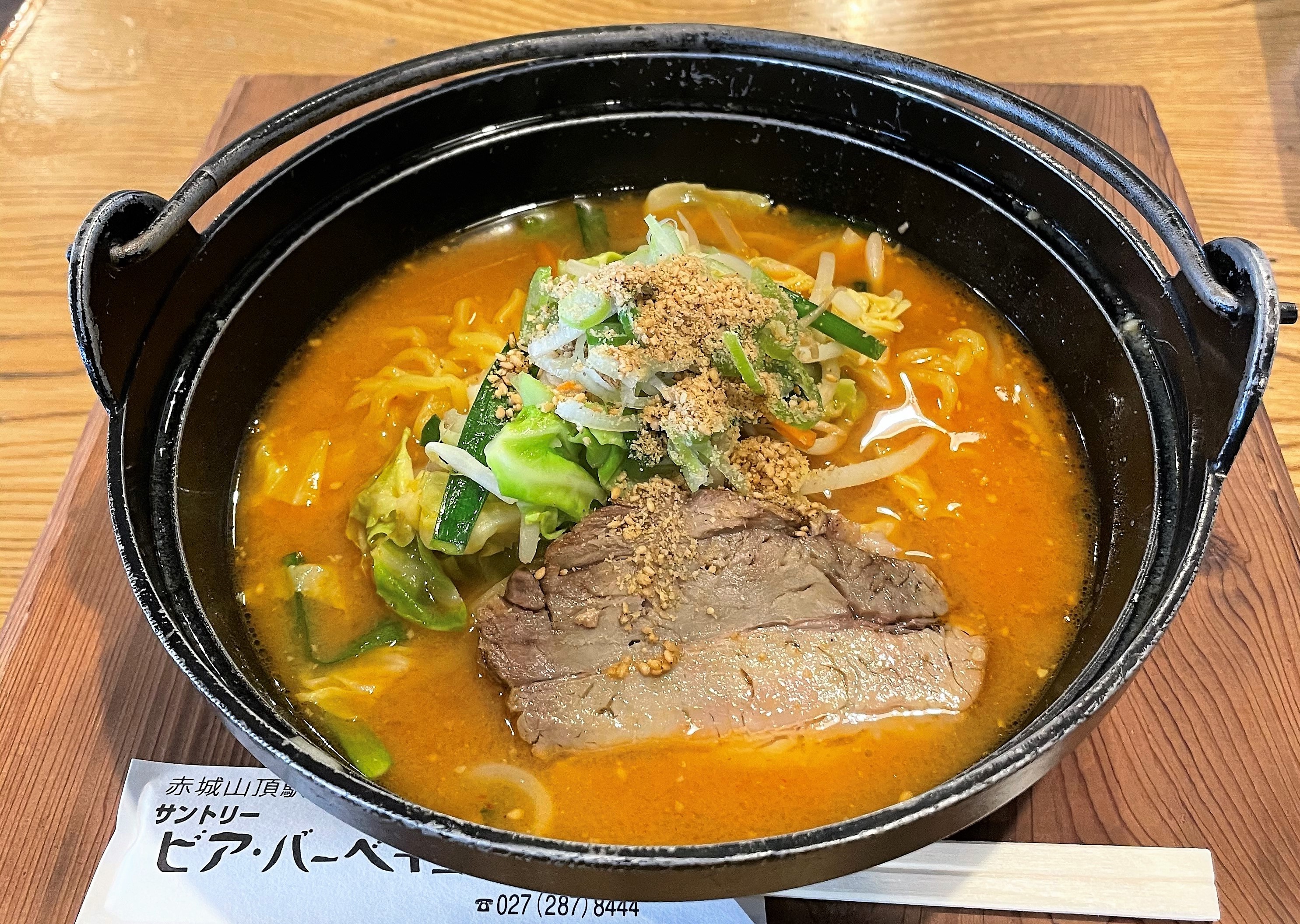 They had ramen, curry, and sweet snacks including very fresh ice cream. There was even some Gunma swag for anyone looking to grab a souvenir. Note that last order for hot food is 4:00 or 4:30 depending on the day, so make sure to plan accordingly.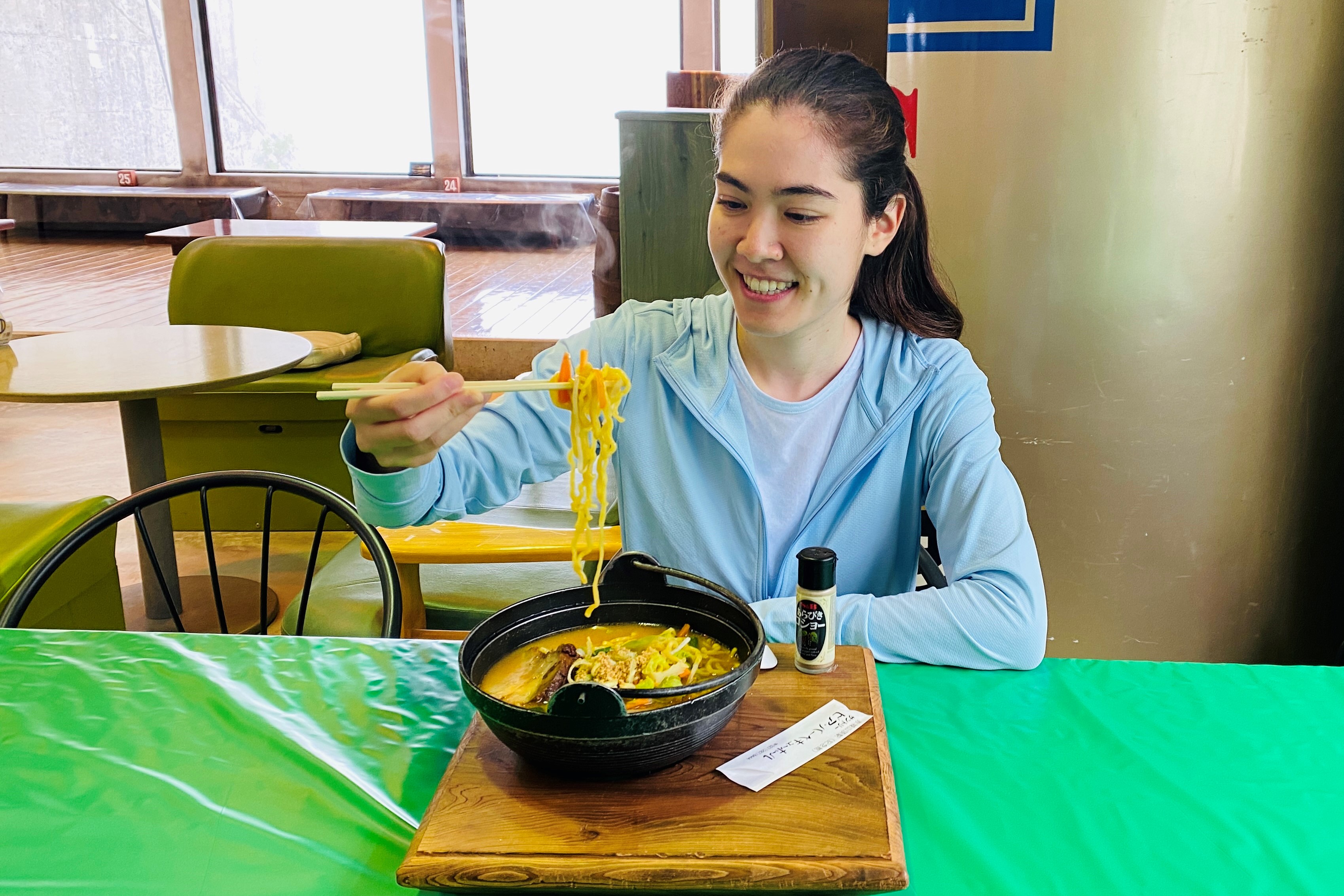 With our bellies full, we continued on to the last 30-minute stretch of our hike. Find the trail down to Kakumanbuchi Marsh (覚満淵) across the street from where you came out of the woods before. 
(Note that if you're pressed for time, you can opt instead for a 10-minute walk straight down the paved car road to get to the visitor center bus stop.)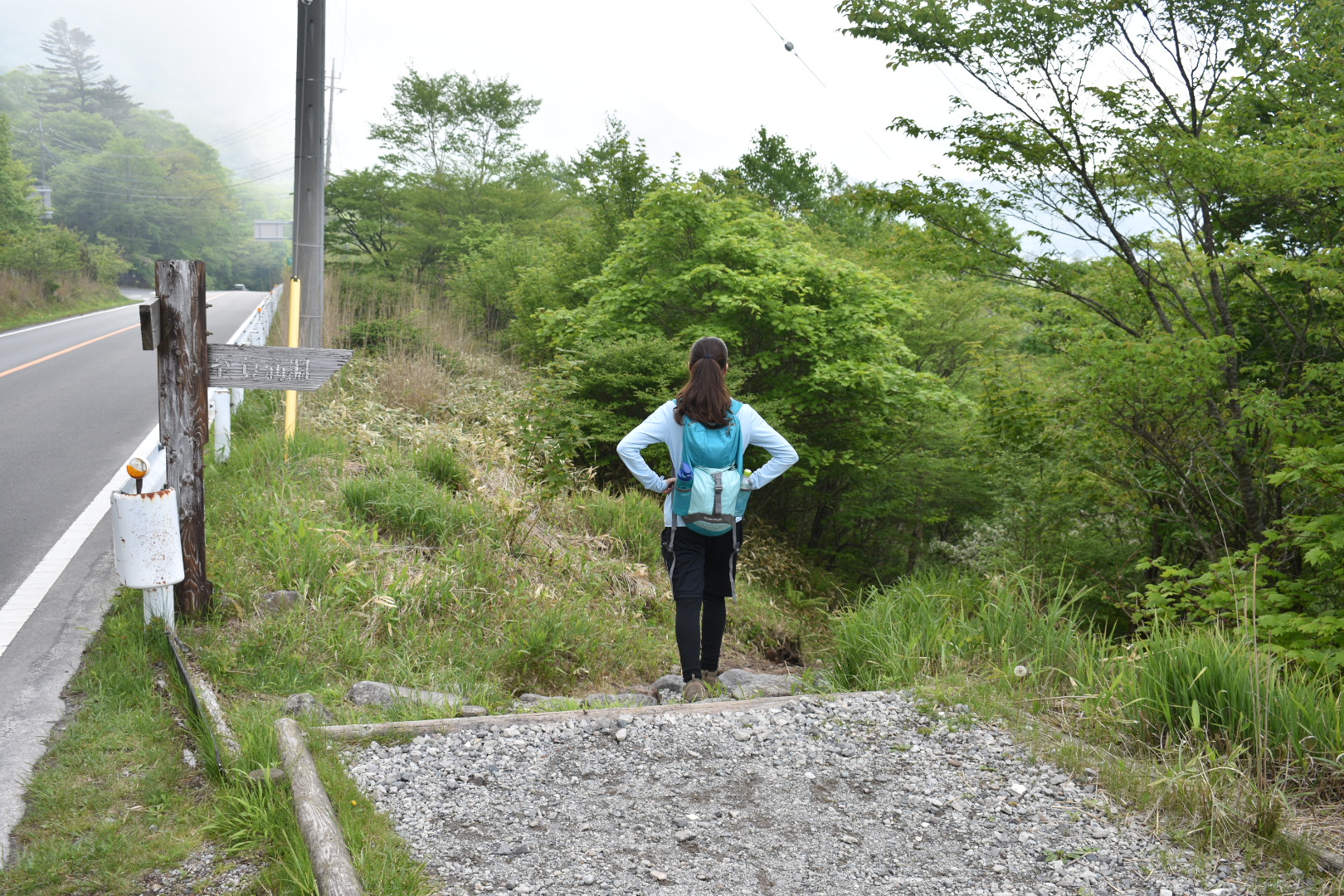 A short, rocky-sandy descent will lead you to a strange fence contraption. This is to keep deer out of the marshland, since they eat too many plants and damage the ecosystem. You'll find that as a human you can zigzag right through. Continue down and when you get to a T intersection, turn right. After another minute, you'll see Kakumanbuchi open up in front of you. Turn left onto the boardwalk and enjoy a walk through the white Japanese crabapple blossoms growing out of the marsh.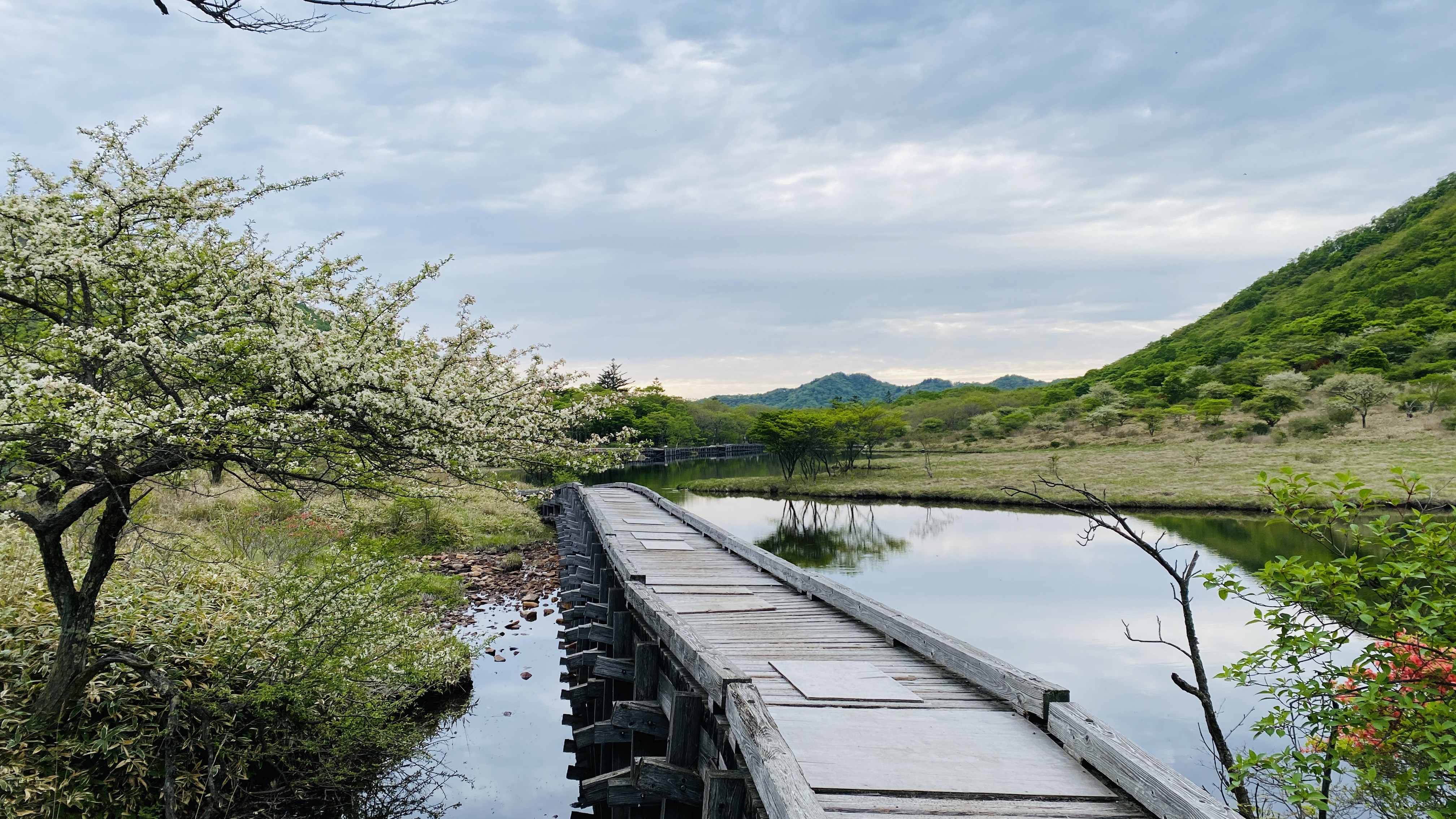 Note the boardwalk sometimes has holes in it, so watch your step. (It's maintained regularly, so rest assured it is structurally sound.) Turn left at the far end of the marsh, onto the boardwalk through the woods. There's another gate to keep deer from getting in, but go ahead and slide it open to let yourself out. Just make sure to close it behind you. The trail led to a road, and we crossed it to get to the visitor's center. Here was the bus stop to get home!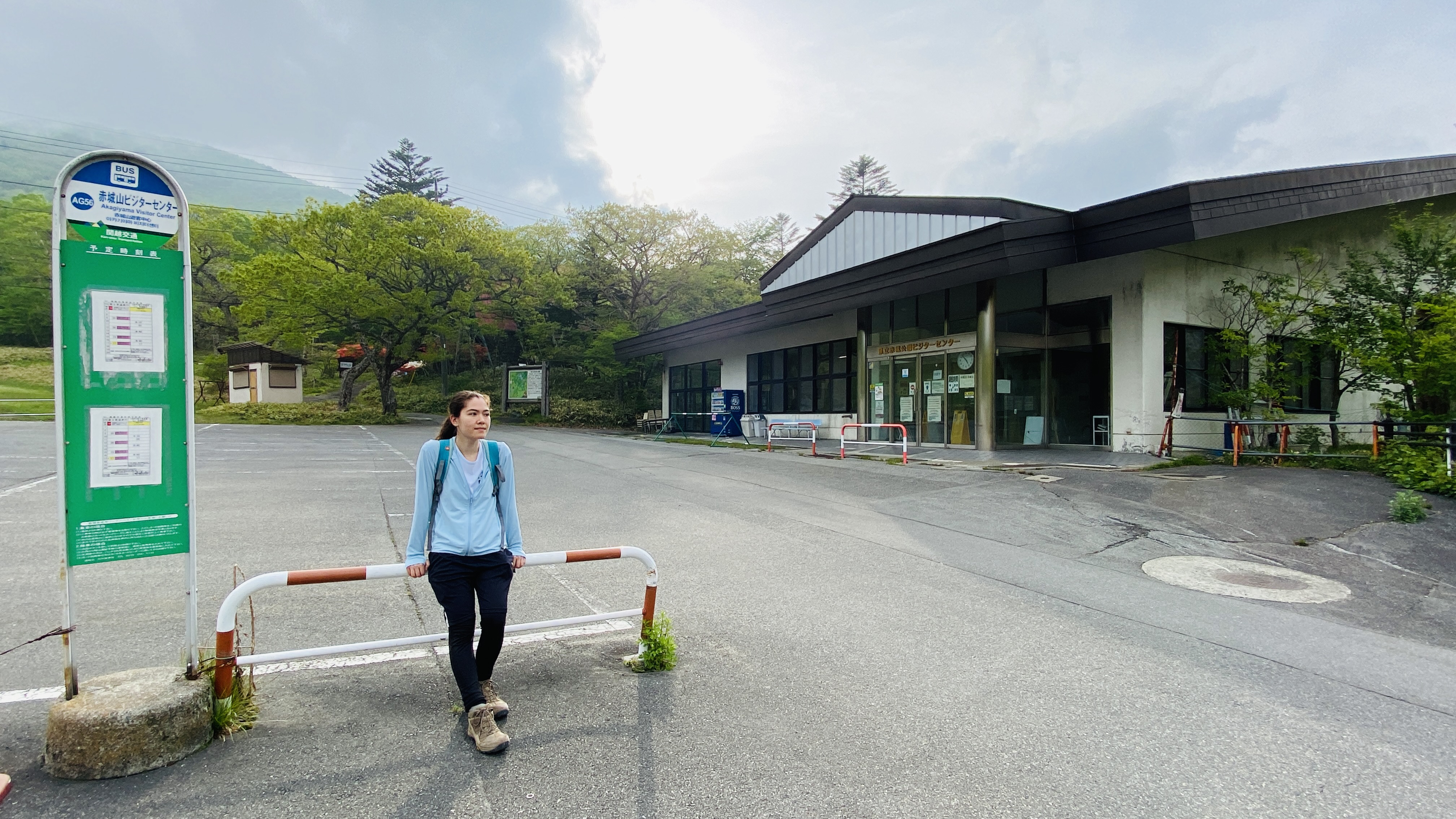 There are public toilets at the back of the parking lot, and vending machines next to the visitor center. Remember the last bus is at 5:17 pm (as of publication). For anyone who drove to the trailhead at Himeyuri Parking Lot, you can also use this bus to get back to your car. Just get off at Minowa about a 20-minute ride away.
Happy trails everyone!
-----
Want to try this trail together with a knowledgeable Akagi Trip mountain guide? Send us a message through our contact form to inquire!
Looking for a different hike on Mt. Akagi? Browse other trails here.