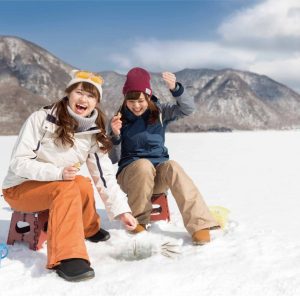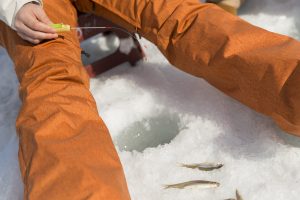 Onuma Lake, atop Mt. Akagi, is full of small fish called wakasagi, or Japanese pond smelt. When the lake freezes over in the winter, you can go ice fishing for wakasagi. Drill a hole in the ice, drop in your line, and see if you can lure in some of these small, tasty fish!

Beginners welcome!
Several shops around the lakeshore rent and sell ice-fishing equipment. If you let the shop owner know it's your first time, they'll show you how to fish and use the equipment. They'll also deep-fry the fish you catch free of charge!
Just the view from the ice itself is also beautiful.

CAUTION: The Akagi summit is about 10° - 15°C colder than ground level. Please dress accordingly!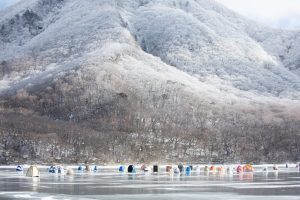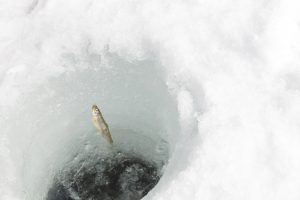 Open season: Mid-January to the end of March (varies by year depending on ice conditions)
Ice hours:            7:00 AM – 3:00 PM daily
2022 season:      Open since Monday, Jan. 10th
At present, the only entrances to the ice will be:↓
1. The Daidō(大洞)entrances near the shopping street on the southeast bank of the lake
2. The Noshiri/Numajiri(沼尻)entrances near Aoki Ryokan.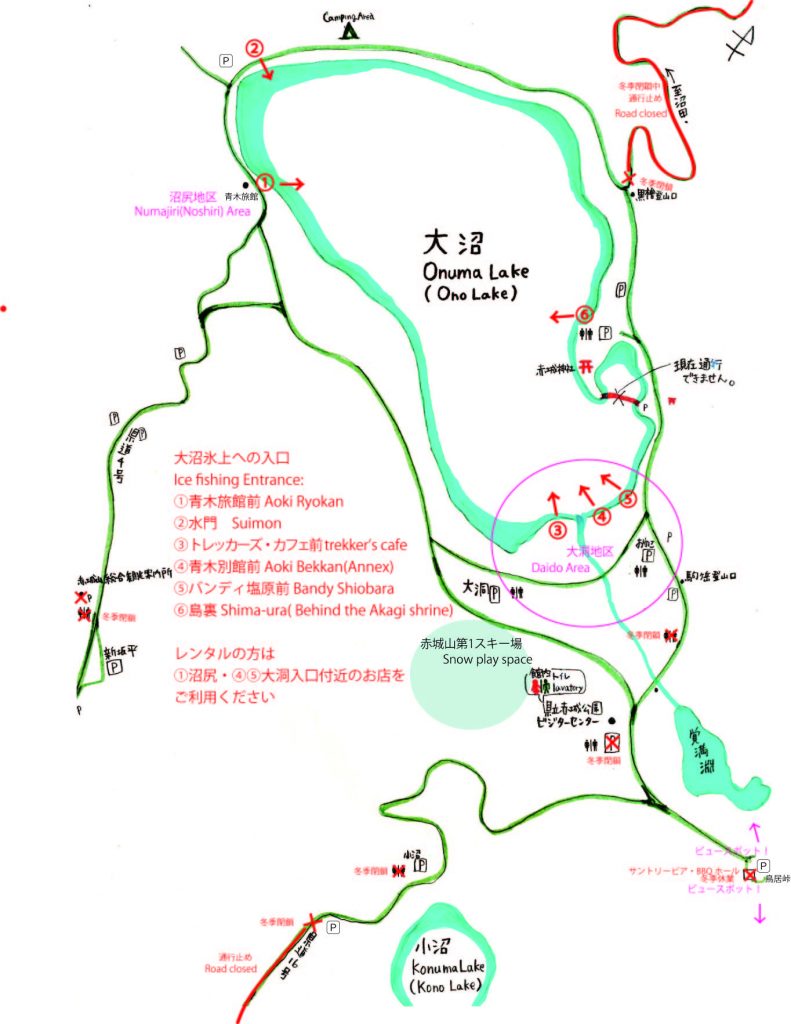 Primary organizer

Akagi Onuma Fishermen's Association

Contact phone: 027-287-8511 (Japanese only)

Who can fish?

Anyone!

Location

Ōnuma Lake on Mt. Akagi (Maebashi City, Gunma Pref.)

Price

Starts around ¥4,000 (includes rental equipment *see below for details) 
Prices and Necessary Equipment
・An ice-fishing entrance ticket is required to enter the ice.
 Adult fishing ticket: ¥700
 Middle schoolers and under: free

Basic necessary equipment includes 1) a fishing rod, tackle, and bait;
2) an ice-fishing tent; and 3) an ice drill.
Supplementary equipment is also available for rent and for sale.
!!Note all shops are cash only.

Average rental prices (varies by store) 

Fishing rod
(Includes tackle and bait)

¥1,000~¥1,500

Tent

1-person tent

¥1,500

2-person tent

¥2,500

Ice drill          

1 hour

¥1,000
Rental shops
①Aoki Ryokan  MAP
④Aoki Bekkan (青木別館) MAP
⑤Bandy Shiobara (バンディ塩原) MAP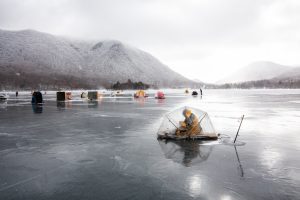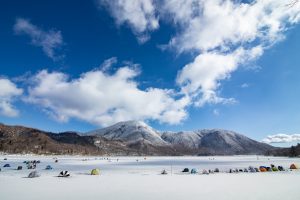 ☆ Access
◆ By public transport:
60 – 80 minutes by bus from Maebashi Station (North Exit, Bus Stop #6) or Chuomaebashi Station.
*Route:
 1.Board a bus bound for Fujimi Onsen.
 2.Get off at Fujimi Onsen and transfer to a bus bound for Akagi Visitor Center.
 3.a For access to the Daidō area lakeshore, get off at Akagi Hiroba Mae. Rental shops and ice entrances are a 2-minute walk away.
 3.b For access to the Noshiri/Numajiri area lakeshore, get off at Kosei Danchi Iriguchi (displayed as Kojiri Kosei Danchi Iriguchi on Google Maps). The Aoki Ryokan rental shop and ice entrance are located a 5-minute walk north up route 157.
*Weekend route:
Direct buses from Maebashi to Akagi available on weekends and holidays.
For schedules see Google Maps or the Kan-etsu Transportation website.
Price (one-way): ¥1,500 with direct bus, or ¥1,810 with transfer. Children are half price.
Fares payable in cash only.
◆ By car:
About 70 minutes from any of the following highway exits:
Maebashi IC (Kan-etsu Expressway)
Akagi IC (Kan-etsu Expressway)
Isesaki IC (Kita Kanto Expressway)
NOTE ON ROAD CLOSURES: Prefectural Route 16 from Ogo and Prefectural Route 251 from Numata are CLOSED for most of the winter.
Please use Prefecture Route 4 to access the Mt. Akagi summit during the winter.
The roads to the Akagi summit can be snowy and icy at times. Snow tires or tire chains are required, and 4WD is recommended.
 

To prevent the spread of COVID-19
・All visitors are required to wear masks, wash/sanitize hands frequently, and participate in temperature checks.
・For groups of visitors and families, please have only one member of your party enter rental establishments to buy tickets and rent gear while other members wait outside or in the car. When it's crowded inside, please wait outside.
・If you have fever, cold symptoms, or any other symptoms related COVID-19, please refrain from entering rental establishments or the ice.
Rules for Safe Fishing
Open flames are prohibited on the ice.
For your safety, please do not enter roped-off areas. The ice may be too thin or the area may not be properly prepared for foot traffic.
Only enter the ice through the designated entrances. Do not enter through other areas.
When drilling holes:

Ice drill holes should not exceed 15 cm in diameter.
Please drill holes at least 30 cm apart.
Larger holes create a hazard for children who could fall in.

Please take home your trash. Do NOT dispose of it on the ice or in rental facility garbage cans.
Please return rental items to the place you rented them from. Do not leave them on the ice.
It is very cold on the lake. Please check that you are wearing the proper attire (i.e. winter jacket, warm gloves and hat)
Please take caution when walking on the ice—certain areas can be very slippery! We recommend attaching ice treads or crampons, etc. to your shoes when walking on slippery areas.