Click for up-to-date 2023 info about the cherry blossoms.
---
Today we visited Maebashi City in Gunma Prefecture, Japan.
Our first stop was Akagi Nanmen Senbonzakura, which translates to "1000 Cherry Blossom Trees on the South Side of Mt. Akagi."
Mt. Akagi is one of three representative mountains in Gunma Prefecture and is famous for its long, sweeping slopes.
We decided to visit during the annual Cherry Blossom Festival since spring festivals are fairly rare in Japan.


We started from Maebashi Station, which is a 15-minute train ride along the Local Japan Railway (JR)
Ryomo Line from Takasaki Station.
Takasaki Station is accessible by many local JR lines, many shinkansen(bullet train) lines, and several bus routes. For more details about access to Takasaki Station, click here:https://www.visit-gunma.jp/en/plan-your-trip/getting-to-gunma/
We took the special "Hana Meguri-Go" bus, which only operates during the festival period. The bus stop is located outside the south exit (南口) of Maebashi Station (前橋駅),seen here: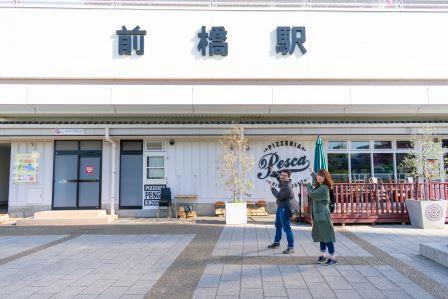 Here is the "Hana Meguri-Go" (花めぐり号 in pink) bus stop.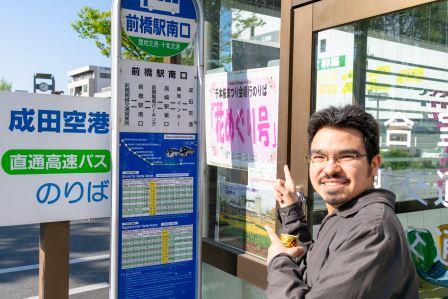 There is also a tourist-friendly English sign!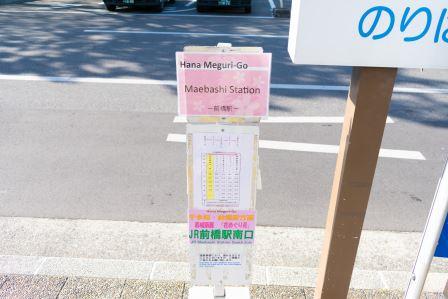 Be sure to purchase your ticket when you first get on the bus. It costs 1500 yen for adults (junior high
school students and older) and 750 yen for children (elementary school students and younger).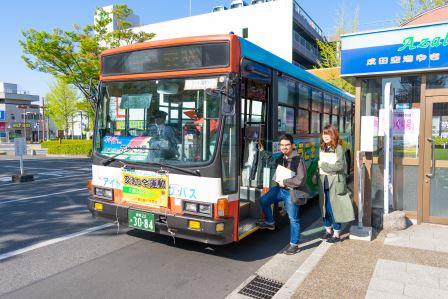 This is where the bus drops off for Senbon-zakura.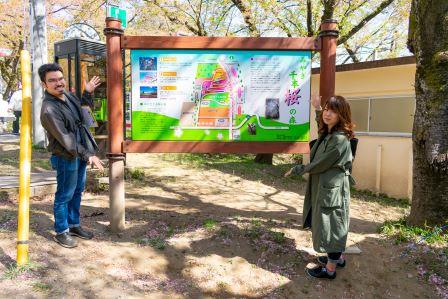 From the bus stop, follow the road north a short distance to arrive at the main entrance, seen here!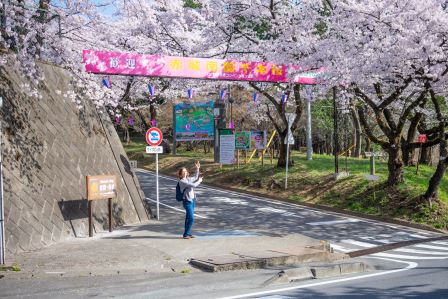 From the entrance you can already see the endless row of cherry blossom trees. It was an incredible sight!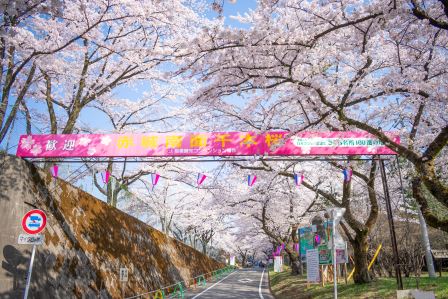 Truly breathtaking!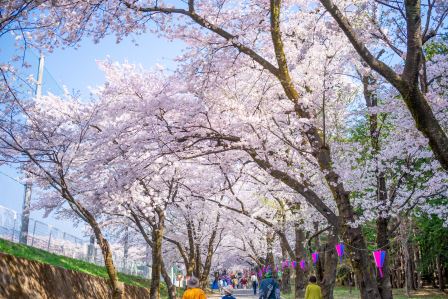 Cherry blossoms are a symbol of Japan and are also incredibly fragile plants. Therefore, there are some important to rules to follow when visiting: please don't break or shake the branches or otherwise touch the blossoms. Also, please do not climb up or onto the trees.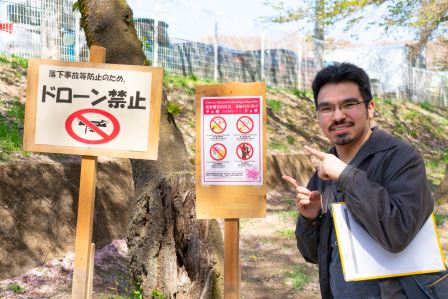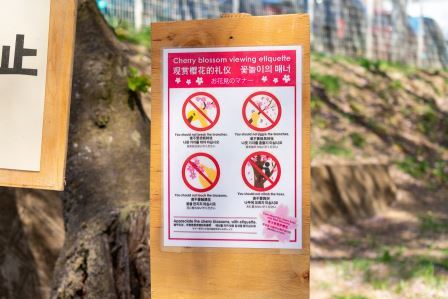 This is the truly unique cherry blossom tunnel. You can see cherry blossoms wherever you look!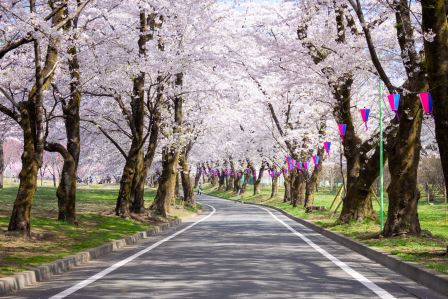 This road, lined with 1000 cherry blossom trees, continues for about 1.3km.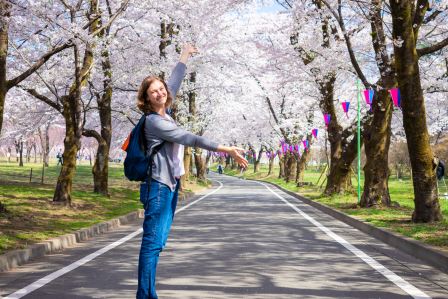 We love snapping photos of the cherry blossoms up close.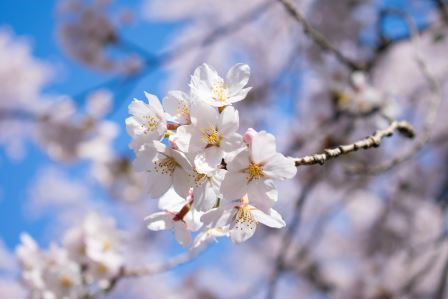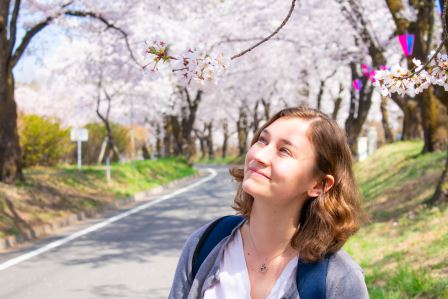 世界の桜ゾーン, or the International Cherry Blossoms Area, is famous for cherry blossoms from five different countries:Taiwan, China, the United Kingdom, the United States, and Belgium. These kanhi-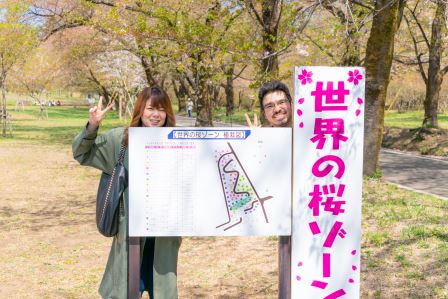 These kanhi-zakura are from Taiwan.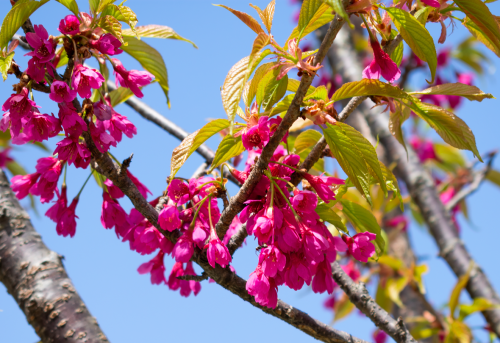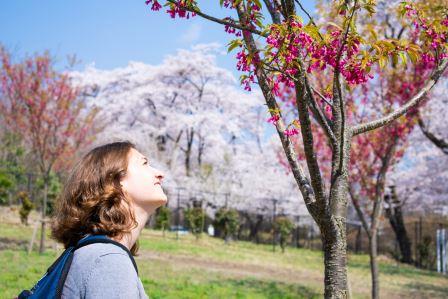 The dainty downward-facing okame and the bursting umineko are both from the United Kingdom. Okame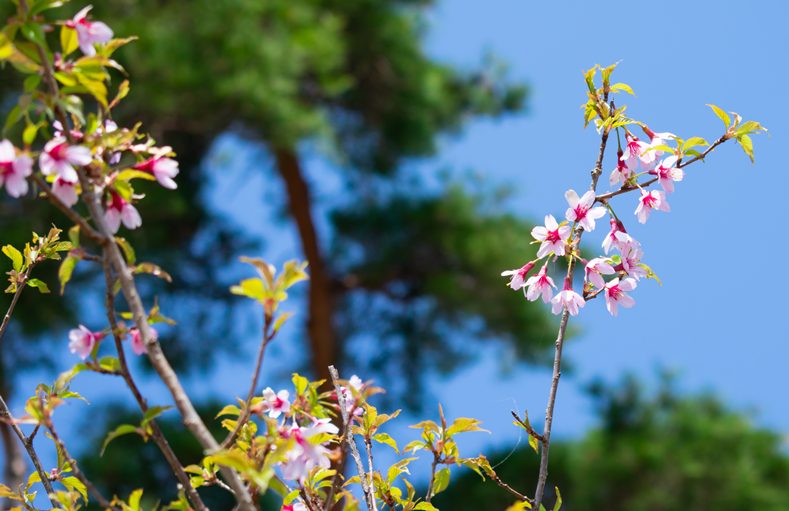 Umineko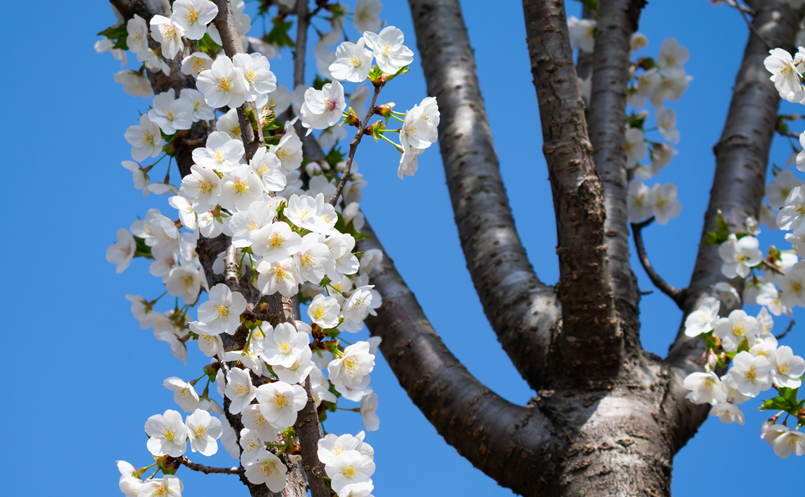 The British accolades (forefront) are a much bolder pink than the traditional Japanese someiyoshino (background) cherry blossoms.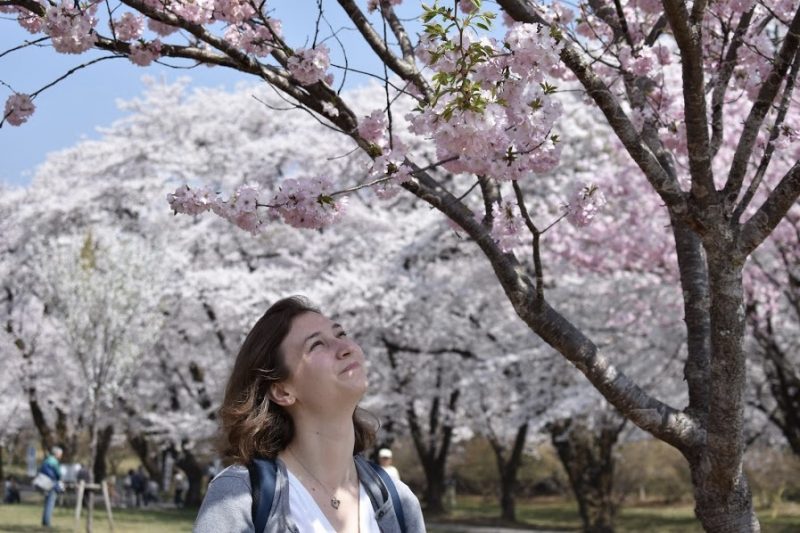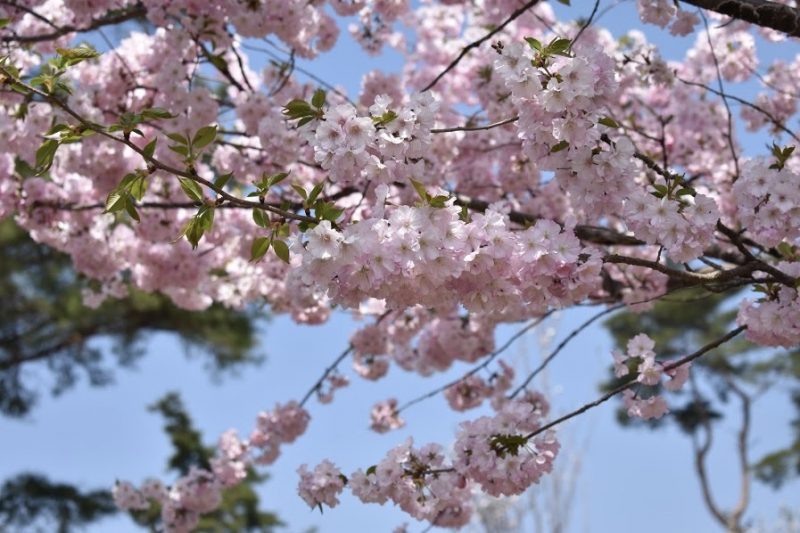 American Ashly was surprised to learn that this type of cherry blossom is called America! They are such a soft pink, they're almost white.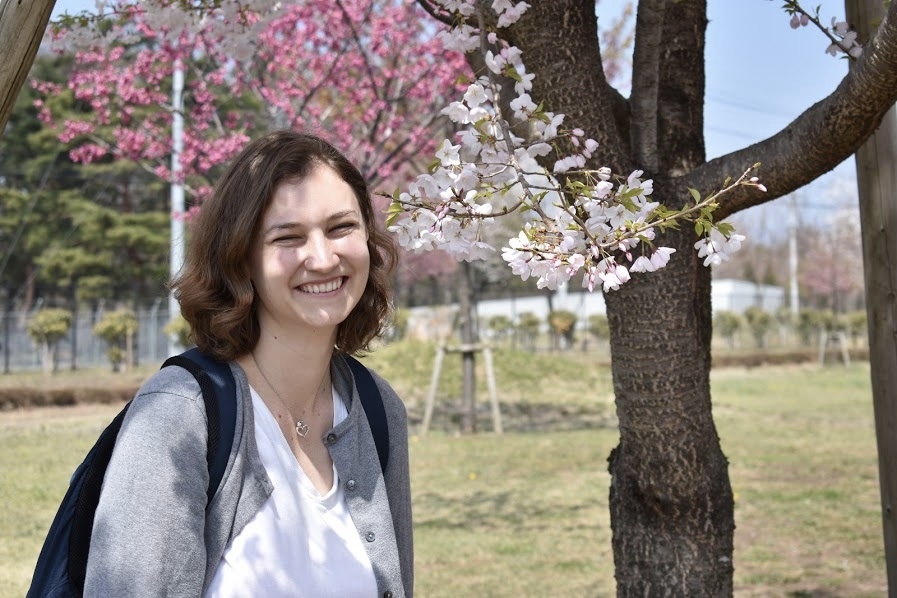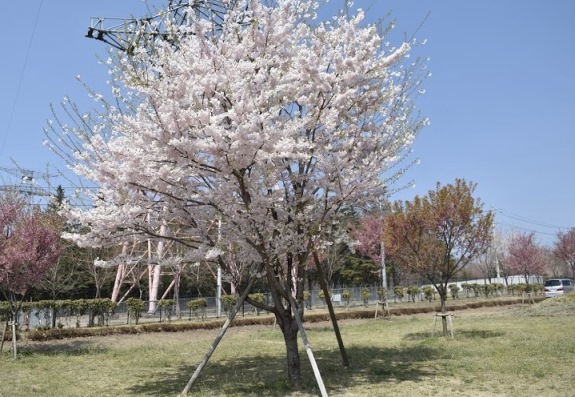 Shidare-zakura are a special type of cascading cherry blossom tree, kind of like a weeping willow.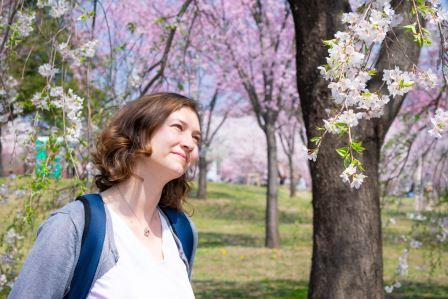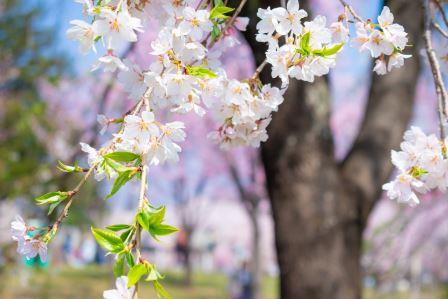 Our absolute favorite spot at Senbon-zakura was the yellow nanohana section! The contrast between the
bright yellows and the soft pinks was absolutely gorgeous!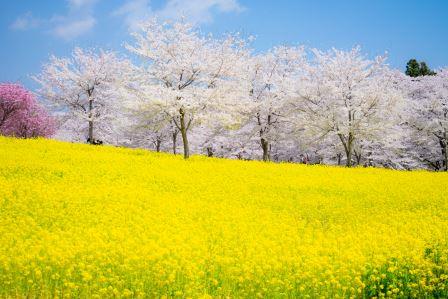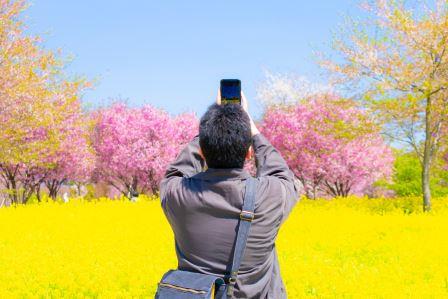 There were so many great spots to take selfies too!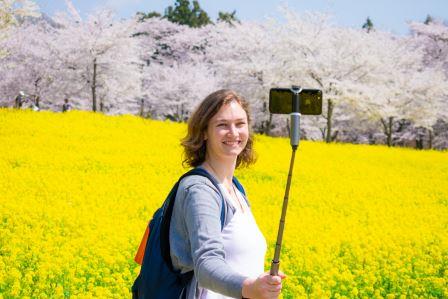 No festival is complete without some festival food. Okonomiyaki (savory pancakes), crepes, ribs, extralong French fries... there were so many delicious options!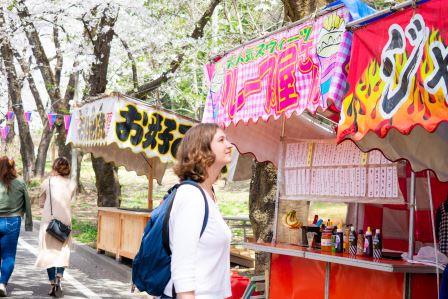 Chris and Asami opted for yakisoba (stir-fried noodles on the far left), a pork rib (one of Maebashi City's specialties), and extra long fries. Nom nom!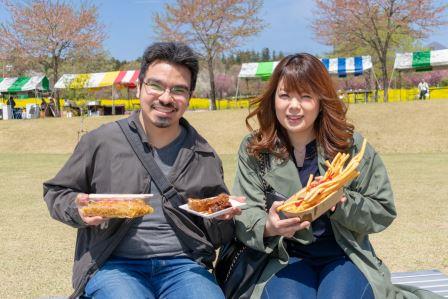 "1000 Cherry Blossom Trees on the South Side of Mt. Akagi" 
The cherry blossom season at this place is from early April to mid April.
It is recommended for everyone!