Today we went to Ogo in Maebashi City, Gunma Prefecture to go trout fishing, barbecue, and do some grape-picking. Osaki Fishing Ponds ("Osaki Tsuribori" in Japanese) is located in the scenic northeast area of Maebashi City at the foot of Mt. Akagi, and is fully equipped with barbecue equipment and food. The Akagi Oroshi Grape-picking Farm is just a short bike ride away from the fishing ponds, and has an amazing variety of grapes for customers to choose from!
JR Maebashi Station is just an hour away from Tokyo via bullet train, which is where we started our journey. There you can catch a retro shuttle bus from Bus Stop #3. Hop on the bus from the rear door and pay the 100-yen fair when you exit through the front door.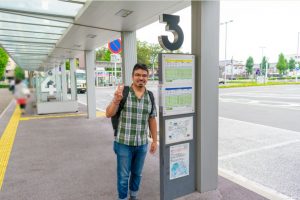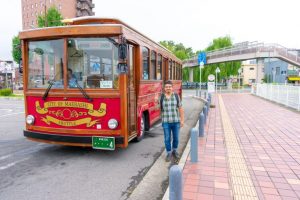 The shuttle bus runs between JR Maebashi Station and Chuo Maebashi Station, so just get off at the end of the line. It's only about a 5-minute ride, so you'll be there in no time! This is what the station looks like, and inside there are ticket machines with English-language support.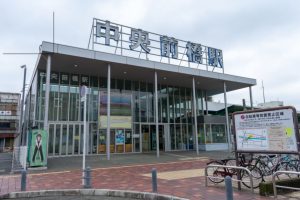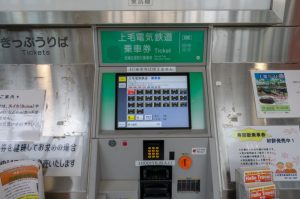 Chuo Maebashi Station is the start of the Joumo Dentetsu train line, a small line that puts a lot of effort into its seasonal decorations. Just look at the summer decorations!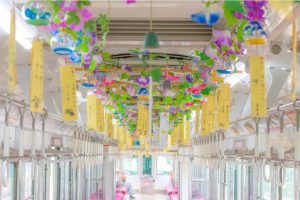 Today we're heading to the small town of Ogo Station in the northeastern area of Maebashi City. Ogo Station has a quaint, small-town feel to it, with only a single staff member sitting at the gate to take your tickets. There is no machine like on the JR Line trains, so just drop your ticket into the little box at the station gates.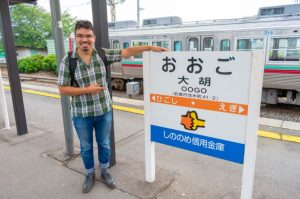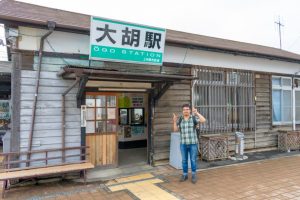 We decided to ride an electric bike to our destination today.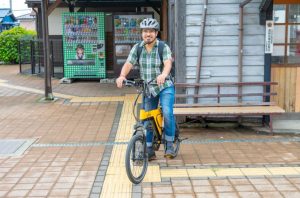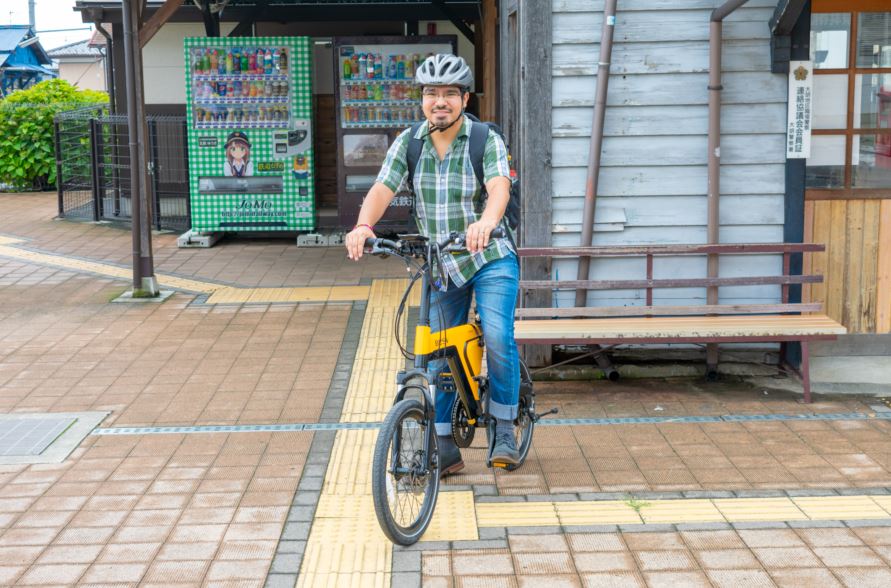 With our electric bike, we got to Osaki Tsuribori in less than 40 minutes. It was a little tiring, but on a cool day like this, it was the perfect way to work up an appetite for fish and BBQ!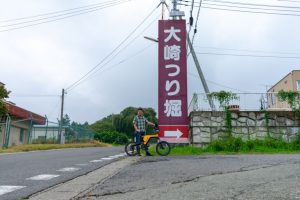 Once we got to the fishing ponds, we got right down to fishing! At first we were quite excited, and thought it would be easy enough fishing out of a small pond like this…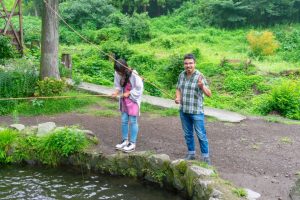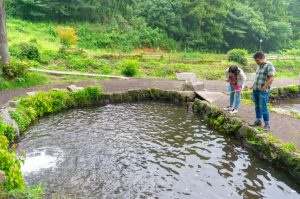 But after a few minutes we realized this might require a little skill, and a lot of patience!
It took about 10 or 15 minutes, but eventually I finally caught one!
And soon after, another one!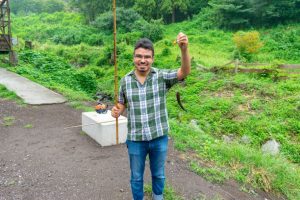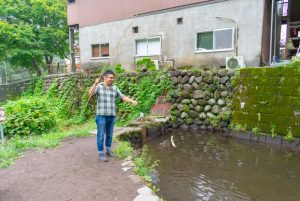 Before we knew it, we had 4 trout, and decided to call it quits and start our barbecue. We headed to a different area where a canopy and everything we'd need for barbecue was already set up. Here's all the food we were given for 3 people, but Mr. Osaki told us that the actual barbecue set normally comes with more than twice as much food. You could spend hours out here eating and enjoying nature with your friends, all for just 3,000 yen!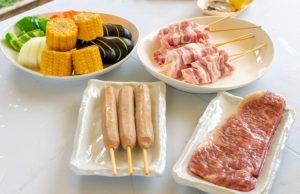 Before we can eat all this, though, we need a fire, and that was more difficult than I thought it would be!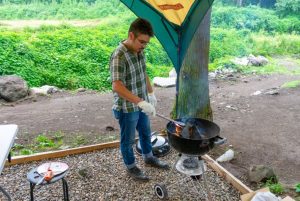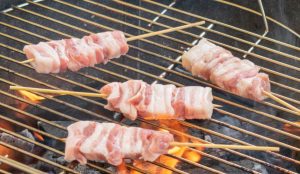 Once we got the fire going, we made quick work of the food, and our newly-cooked trout came while we were barbecuing!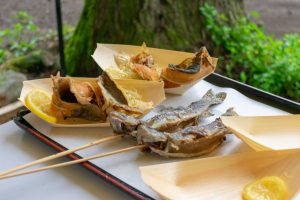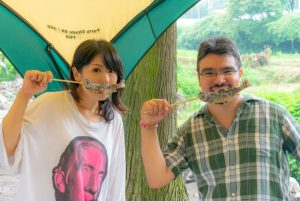 The table got a little messy because we were eating and cooking at the same time, but everything was incredibly fresh and delicious! We were so excited about the meat that we almost forgot about the veggies!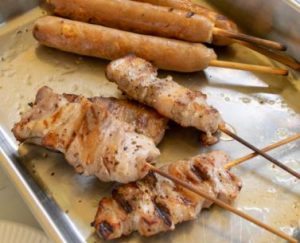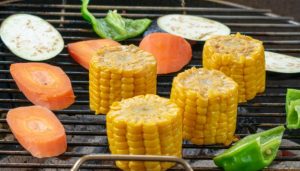 Last, Mr. Osaki brought us some delicious salmon over rice. We were already stuffed, but the salmon looked too good to pass up!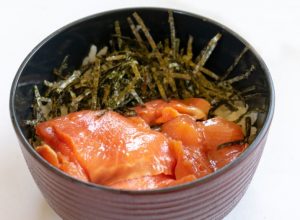 /////////////////////////////////
After finishing our meal, no one really felt like moving, but we pulled ourselves out of our seats and started the short bike ride to the Akagi Oroshi Grape-picking farm. As soon as we stepped into the store we were met by a stunning array of grapes, including these 7 varieties that you get to taste before choosing which one you want to pick for yourself.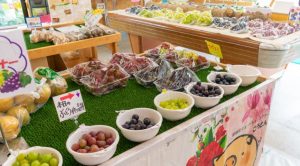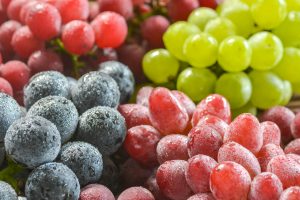 There are of course differences in color, but some varieties of grape are eaten whole, with the peel intact, while others have thicker, more astringent skins that you are encouraged to remove before eating. I decided to go for one green variety that you eat whole, and one purple variety that is supposed to be peeled before it's eaten.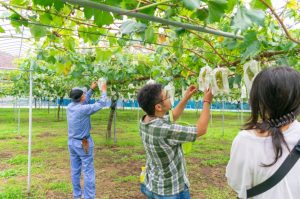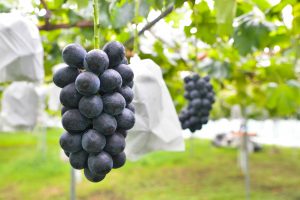 Now, we spent more time tasting and deciding on what kind of grapes to choose, but we also took some time to enjoy the atmosphere inside the grape orchard. Once I decided on a bunch to cut directly from the vines, though, it was very quick work!